M A I N N E W S
Anna ends fast, expands agenda
Right to reject, recall parliamentarians Gandhian's next priority
Shaurya Karanbir Gurung
Tribune News Service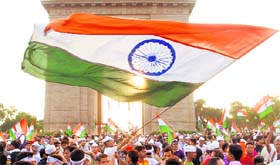 Supporters rejoice: Anna Hazare fans celebrate at the India Gate on Sunday evening.
New Delhi, August 28
The unparalleled 13-day agitation ended today with Anna Hazare breaking his fast to a cheering crowd of thousands of supporters at Ramlila Grounds, but not without a stern warning to start yet another movement, this time for electoral reforms.
Two eight-year-old girls, one a Muslim called Ikrah and another a Dalit called Simran, offered Anna a glassful of coconut water mixed with honey amidst waving of the Tricolour and rendering of a devotional song by singer Nitin.
A rejuvenated Anna immediately announced his next plan of action saying his fight for change would continue. "I will not rest till it happens. We now have to bring about electoral reforms and strive for the "right to recall" and "right to reject" MPs. There also needs to be a change in the education system, which has been commercialised. Poor children must be given education," he added.
"The right to recall will be used against those who are elected and the right to reject, present as a column in the ballot paper, will give the voter a choice to say if he approves of the selected candidates," the Gandhian said.
Addressing the vast populace gathered there, Anna said, "One thing is clear the people's parliament is greater than Parliament in Delhi. The public in Delhi has always been stronger. Let this movement be an example to the world," he said.
He declared his intent to change the society. "This movement has given me the belief that corruption can be eradicated and we can now implement the legislation and the Constitution made by Dr BR Ambedkar.
Notwithstanding the general skepticism expressed by MPs yesterday about his movement, Anna expressed his gratitude to them attributing his success to them. "It would have been impossible without them. We thank the political parties for passing the resolution in Parliament yesterday," he said.
The Gandhian predicted that the Jan Lokpal Bill would be passed soon, but asked his supporters not to rest yet "because the fight for change has just started". "If the three demands are rejected, the public must stand up to fight again," he asserted.
Prashant Bhushan also expressed a similar hope saying, "The people will have to watch the events that will unfold in the coming days. We hope that the government will complete its job within a month. If the Lokpal Bill is implemented, it will convey the establishment of a proper democracy in the country where people's choices are heard."
Hazare ended his address to his supporters saying whoever was wearing "I am Anna" cap should follow his five principles. "Shudh vichar (pure thoughts), nishkalank jeevan (untarnished reputation), apman sehni ki shakti (the power to bear insults), shudh aacharan (pure conduct) and tyaag (renunciation)." The crowd enthusiastically nodded in approval as he mentioned each principle, raising his imitable slogan of "Bharat Mata ki jai" before he left.
From there he drove off to Medanta - The Medicity, a hospital in Gurgaon, to stay under observation for next two-three days.
What 'I am Anna' cap entails
Hazare said "I am Anna" cap wearers should abide by five principles: Shudh vichar (pure thoughts); Nishkalank jeevan (untarnished reputation); Apman sehni ki shakti (power to bear insults); Shudh aacharan (pure conduct); Tyaag (renunciation)