Students' Council Elections
Below 50 pc voting at DAV PG College
Yamini Sunwar
Tribune News Service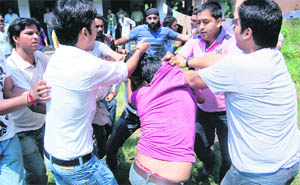 A student is beaten at DAV (PG) College; and (below) police personnel on patrol during the elections in Dehradun on Tuesday. Tribune photographs
Dehradun, August 30
A decline of over 50 per cent voting in the student council elections at the biggest college of the state, DAV PG College, has surprised one and all. It was strictness on the part of the college and police authorities that has kept "fake" voters away from polling this year. Earlier, a large number of them succeeded in casting votes.
According to the chief election officer, Dr Dinesh Pratap, "This year, on the direction of our new Principal, the college administration made every effort to conduct free and fair polling on the college campus. The polling squads were on their toes to keep fake voters away from the polling and make sure that the guidelines of the Lyngdoh Committee were followed during the elections".

As many as 4,750 students, out of a total of 14,596 students, cast their votes, bringing the voting percentage to less than 32 per cent. As many as 3,197 boys cast their votes while the number of girls was 1,561.
Twentytwo booths were set up on the campus and a team of 22 faculty members oversaw polling. Proper checking of the identity of the voters at the college entrance was carried out.
Meanwhile, the shopkeepers of Karanpur kept their shops shut to avoid confrontation with rowdy students, but opened these in the evening.
Meanwhile, polling was peaceful at the college and only one fake voter was caught while he was trying to cast vote in favour of a candidate of the National Students Federation of India (NSUI).
The police had made elaborate arrangements to prevent any untoward incident on the campus. The SP (City) remained at the college during the elections.
Meanwhile, college students pasted posters all along the DAV-Karanpur Road. Though the police didn't let students create a commotion at the college, they did so on the road.
The results will be announced on Thursday.