MKP College win final of hockey tournament
Dehradun, August 29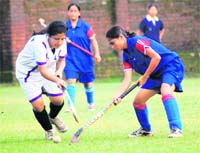 MKP College (senior) won the final of the Major Dhyan Chand Girls Inter-school Hockey Tournament by defeating Welham Girls School (senior) here today. MKP (senior) edged past Welham girls (senior) 3-0. Anita (22nd) scored the first goal for MKP. Sheetal (24th) and Kavita Bisht (48th) scored a brace in the win. From the Welham girls side, Shreya and Ishrat performed well.


A match held between Welham Girls School and MKP Girls College in Dehradun on Monday. A Tribune photograph

Man attacks paramour, commits suicide
Dehradun, August 29
A married man allegedly committed suicide by consuming some poisonous substance after attacking his paramour in Dharawali today.
MPG College land encroached upon
Mussoorie, August 29
The land mafia has now set its eyes on the prime land of Sardar Villa and Hezel Dale Estate belonging to Municipal Post Graduate (MPG) College managed by the Municipal Council (MC).
SSP's tips for cops
Dehradun, August 29
Laying stress on basic policing, new Senior Superintendent of Police (SSP) Gopal Nath Goswami asked policemen to take personal interest in solving problems of people quickly here yesterday at a police meeting at the Police Lines.
Fake Numbers
Seven Vikram owners booked
Dehradun, August 29
The Dehradun traffic police today registered cases against seven Vikram owners for using fake registration numbers. The vehicles had been found running on the registration numbers of two motorcycles, a car, three scooters and a taxi during a special drive launched by the traffic police a few days ago. Later, a report in this regard was sent to the Regional Transport Office.
Sanskar International beat Seven Oaks 4-0
Dehradun, August 29
On the second day of the Senior Council (ICSE) Football Tournament held at St Joseph's Academy today, Sanskar International defeated Seven Oaks 4-0. Shubham struck a goal in the 20th minute while Piyush netted the second goal for the winning team in the 38th minute.
Gypsy Young defeat Cantt Blue
Dehradun August 29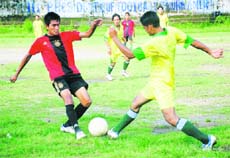 Gypsy Young defeated Cantt Blue 3-0 in the Lala Nemi Dass Memorial Football League played on the Pavilion Ground here today. Sunil Raj opened the account of Gypsy Young by scoring first goal in the 15th minute of the match followed by the second goal in the 25th minute. Ayush, who scored the third goal in the 45th minute, also contributed to the score of the winning team.

Two players vie for the ball in a match in the Lala Nemi Dass Memorial District Football League played at the Pavilion ground in Dehradun on Monday. A Tribune photograph

GIC, Aryan Sports Boys lift trophy
Mussoorie, August 29
Government Girls Inter-College (GIC), Dehradun, and Aryan Sports Club Boys in senior division were declared winners of the six-a-side Dhyan Chand Memorial Hockey Tournament held at Appu Ghar today.
Boxing c'ship from Sept 5
Dehradun, August 29
The National Sub-Junior Boys Boxing Championship will be held at Shillong in Meghalaya from September 5 to 10, said the Uttarakhand Boxing Association.
MC may go in for open tendering
Dehradun, August 29
Dehradun Mayor Vinod Chamoli today convened a meeting with the engineering staff of the Municipal Corporation (MC) to discuss the issue related to the payment of contractors.
Gangotri route reopened
Dehradun, August 29 The route to the Himalayan shrine of Gangotri, which was blocked yesterday due to landslides, was reopened to pilgrims today, officials said. The landslides had hit the national highway leading to Gangotri at Nalupani yesterday.
Students from foreign countries meet CM
Mussoorie, August 29
Chief Minister Ramesh Pokhriyal Nishank met students from at least six countries, who are here to learn the Hindi language and culture of the state, at a function held at Chamba yesterday.
Bond that matters
The style of parenting is one of the strongest influences on how much alcohol a child will drink as a teenager and young adult, a new study has found. Think tank Demos found out that bad parenting made children eight times more likely to become binge drinkers at 16 years, and twice as likely to drink excessively when they were 34.
Exam for police posts on Sept 18
Dehradun, August 29
An examination to fill 132 posts of head constable (rankers) will be held on September 18. According to the police headquarters, after the written examination, physical tests would be held.
Sewer Line Issue
Mohalla Sudhar Samiti ends stir
Dehradun, August 29
Members of the Mohalla Sudhar Samiti, Suman Nagar, ended their week-long protest after meeting Dehradun Mayor Vinod Chamoli. They have been demanding the laying of sewer line in the locality for long.