Man held with charas
Dehradun, August 22
The police has arrested a man with 200 gm of charas. He was later sent to jail. The police got the tip-off that a man will come to sell charas to a client at the Panchyat Ghar. The cops reached the spot and laid a trap.
Two commit suicide
Dehradun, August 22
Two persons have allegedly committed suicide in the Raipur area in the past 24 hours. According to the Raipur police, Ashwani Dobhal (25) committed suicide by hanging himself from a ceiling fan at his Gujarwala residence in Raipur. Members of his family repeatedly knocked at the door but after getting no response they broke it down only to find him dead.
MKP, Moravian Institute register wins in hockey tournament
Dehradun, August 22
Mahadevi Kanya Pathshala (MKP) Inter-College and Moravian Institute registered wins in their respective matches during the Major Dhyan Chand Girls Inter-school Hockey Tournament, which was organised by the district sports office on Sports Day on Monday.

Players in action in a match in the Major Dhyan Chand Memorial Girls Inter-school Hockey Tournament being played at Welham Girls' School in Dehradun on Monday; and (right) actress Chitrashi Rawat meets players. Tribune photos
City Young edge past Akranta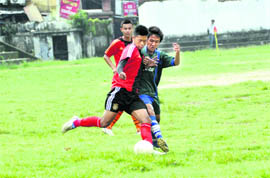 Dehradun, August 22
City Young edged past Akranta 1-0 in a tough super league match of the district football league held on the Pavilion ground here today. Rakesh scored the golden goal of his side in the 40th minute. Akranta failed to score any goal throughout the match.
A match in progress in the Lala Nemi Dass Memorial District Football League played at the Pavilion ground in Dehradun on Monday. A Tribune photograph


4 skaters qualify for KV National
Dehradun, August 22
Four skaters of Kendriya Vidyalayas, Deharadun, qualified for the KV National to be organised in Chandigarh.
Gotipua dancers enthrals audience at RIMC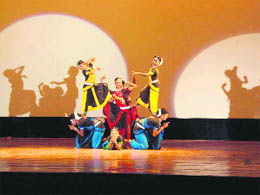 Dehradun, August 22
Gotipua dance, the precursor to Odissi dance, performed by Naksyatra Gurukul held the audience spellbound at Rashtriya Indian Military College (RIMC) yesterday. It was organised in collaboration with Spic-Macay. Naksyatra Gurukul is one of the new gurukuls in Gotipua dance. The founder director of the gurukul, Sri Bijay Kumar Sahoo, was the director and choreographer of the performance.
Gotipua dancers give a performance at the RIMC in Dehradun on Monday. A Tribune photograph


Shefali beat Divyanshi in badminton
Dehradun, August 22
Shefali beat Divyanshi Joshi 21-8, 21-14 in the girls' under-10 singles final of the district-level badminton championship, which is under way at the Parade Ground here.