Signature campaign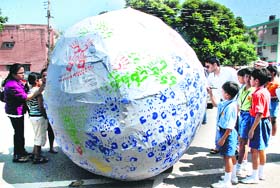 Students and people write messages on a 12-feet dummy earth during a signature campaign organised by Dikshant Global School to observe the International Peace Day in Panchkula on Wednesday. The dummy would be sent to the Delhi Chief Minister's office in the wake of recent Delhi High Court bomb blast. Tribune photo: Nitin MIttal
Up next: Severe officer crunch
Chandigarh, September 21
With 1998-batch IAS officer and UT Deputy Commissioner Brijendra Singh expressing the desire to go back to his parent state of Haryana almost a year before his tenure is slated to end, the UT administration is heading for a severe officer crunch.
Wipro's exit opens door for small firms
Chandigarh, September 21
Information technology (IT) major Wipro's loss at UT administration's flagship Rajiv Gandhi Chandigarh Technology Park here has proved to be a gain for a number of small IT firms. The UT administration has decided to carve out smaller plots on the resumed 30-acre plot of Wipro with a view to get in smaller companies.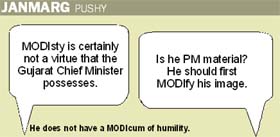 Class-VII student commits suicide
Chandigarh, September 21
A class-VII student of Government Senior Secondary School, Sector 45, allegedly committed suicide at his residence. Amit of Colony Number 5 returned from school and then hanged himself. The police was investigating the reasons behind him taking the extreme step. Investigations revealed he had a tiff with his parents over money. The police initiated inquest proceedings. — TNS
Elderly pummel top cop with general grievances
Chandigarh, September 21
An interaction of senior citizens with the police during the 'Walk for Fun' by the Chandigarh Police, here today, turned more into a forum for airing of public grievances in general rather than concentrating on the police alone.
| | |
| --- | --- |
| Senior citizens are all smiles while enjoying the 'Walk for Fun' organised by the Chandigarh Police at the Sukhna lake in Chandigarh on Wednesday morning. Tribune photos: Manoj Mahajan | Ninetyfive-year-old Mann Kaur (leading), accompanied by her 72-year-old son Gurvinder Singh, takes part in the "Run for Fun" organised by the Chandigarh Police at Sukhna Lake in Chandigarh on Wednesday morning. |
MC apathy has southern sectors parched...
Chandigarh, September 21
Though southern sectors have the highest population density in the city, the municipal corporation has failed to provide enough water to three of its key sectors — 48, 49 and 50 — to meet the demands of residents.
As admn tries to make up for it
Chandigarh, September 21
Finally waking up to the healthcare needs of residents of the southern sectors of the city, where almost three-fifths of its population lives, the UT administration has approved a proposal to convert the Sector 45 polyclinic to a 50-bed community health centre at an estimated cost of Rs 7 crore.
ward woes-II
Scattered garbage, unkempt parks, broken streetlights
Ward No: 5
Sectors 25 and 25 (West); Kumhar Colony; Janta Colony; LIG Colony, Dhanas; Milkman Colony and Housing EWS, Dhanas; Aman, Chaman and Ambedkar colony, Dhanas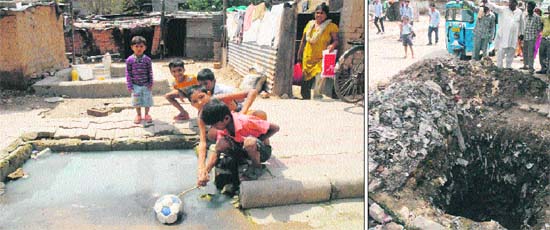 Waterlogging at Kumhar Colony, Sector 25, and (right) open sewage at Sector 25, Chandigarh. Tribune photos: Vinay Malik

PPCB to hold public hearing on Sept 28
Mohali, September 21
The Punjab Pollution Control Board (PPCB) has fixed September 28 for a public hearing in connection with the solid waste management facility, which is being set up at Samgauli village, to hear suggestions, views, comments and objections from residents and others, as these could not be heard last week due to heavy rain.
Inquiry to probe charge against CIA in charge
Panchkula, September 21
Acting on a complaint filed by a 'drug peddler' against inspector-cum-CIA in charge Karamvir Singh for demanding money, Panchkula Superintendent of Police Maneesh Chaudhary has marked an inquiry to DSP Krishan Kumar Hooda.
Cong wakes up to stink
Chandigarh, September 21
The Congress today demanded the closure of the garbage processing plant set up by JP Associates at Dadu Majra and termed it a fiasco. Interestingly, the party had played a major role in the setting up of the plant in 2005.
Finally, MC gets land to set up STP at Zirakpur
Zirakpur, September 21
Finally, the Punjab Water Supply and Sewerage Board will get a piece of land near Singhpura village for setting up of the sewerage treatment plant (STP) in Zirakpur after Zirakpur Municipal Council president NK Sharma today met villagers and got a green signal for 3 bigha land in Singhpura from them.


Bovine march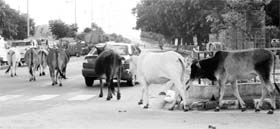 Stray cattle create hurdle for traffic at Phase-VII, Mohali, on Wednesday. Tribune photo: Vicky Gharu
Zirakpur MC to spend Rs 8 crore on strengthening of roads
Zirakpur, September 21
Putting back on track the developmental works, the Zirakpur Municipal Council is spending Rs 8 crore on strengthening of roads in the town. An MC official claimed that the council had planned to strengthen the roads that were in poor condition.
12-day-old undergoes open heart surgery
Mohali, September 21
"A new-born child who does not behave normally and has breathing problem can have some heart-related ailment," Dr TS Mahant , executive director, cardio thoracic and vascular surgery, Fortis Hospital, said here at a press conference after performing open heart surgery on a 12-day old child.
snehalaya case
SIT submits report on missing children
Chandigarh, September 21
The special investigating team (SIT) of the UT Police, formed to probe the case of 12 missing children of Snehalaya — home for the destitute in Maloya — submitted its report in the case to senior officials today.
Inauguration of Singhdwar to wait
Panchkula, September 21
The Mansa Devi Singhdwar being under construction since 2007 will once again miss its inauguration this Navratra. When the foundation stone was laid down by the Haryana Chief Minister on January 4, 2007, the construction of the gate was scheduled to be completed within six months.
Appointment issue to dominate Syndicate meeting
Chandigarh, September 21
The controversy surrounding appointment of Panjab University's Controller of Examination brewed further, as the agenda of forthcoming Syndicate scheduled for September 27 reached Syndics today.
Confusion roils PU over who heads environment dept
Chandigarh, September 21
Lack of coordination continues to haunt the Panjab University administration. While the establishment branch recognizes Rajinder Jindal as the chairperson of the environmental studies department, the head is AS Ahluwalia according to the accounts branch.
Parents 'accuses' GMSSS-37 of forcing students
Chandigarh, September 21
Government Model Senior Secondary School (GMSSS-37), Sector 37, authorities have come under scanner for "allegedly" forcing students of classes XI and XII to open savings accounts in a bank.