BJP hits out at Virbhadra
Shimla, September 21
State BJP chief Khimi Ram today said the sudden U-turn taken by Union Minister Virbhadra Singh after showering praises on Chief Minister Prem Kumar Dhumal and senior BJP leader Shanta Kumar had taken everyone by surprise.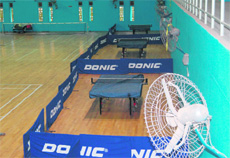 Ceiling fans render stadium unfit for games
Dharamsala, September 21
Faulty architectural designs of indoor stadia constructed in various parts of the state by the Sports and Youth Affairs Department have rendered these useless for many indoor games.


Fans installed in an indoor stadium in Dharamsala. Photo: Kamaljeet

Poisoned Seer khud raises dead fish stink
Bilaspur, September 21
Thousands of big and small fish and other water animals were found dead in the famous Seer khud near a bridge on the Bamm-Parnaal road, near Ghumarwin, 40 km from here, this morning.


Bursting at the seams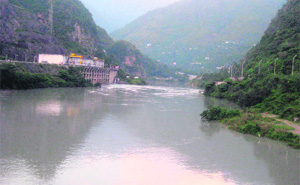 With the Bhakra Dam attaining the maximum level, the Gobind Sagar has spread up to Slapper situated on the Mandi-Bilaspur border presenting a picturesque view. On the left bank is the 990-MW BSL powerhouse with its three storeys under water. Photo: Mahesh Chander Sharma
Railway officials finally initiate demand survey in Paonta Sahib
Paonta Sahib, September 21
The hopes of the industrial area of Paonta Sahib-Kala Amb being linked to the railways through a new rail line from Ghanoli near Ropar to Dehradun via Baddi, Nalagarh, Jagadhari, Surajpur may be transformed into reality with a high-level team of officials from the Northern Railways today initiating a demand survey at the twin industrial towns of Sirmaur district.
Baddi police impounds 46 vehicles involved in illegal mining
Solan, September 21
The Baddi police unearthed large-scale illegal quarrying at Sheetalpur village in Baddi by impounding 42 trucks and four JCB machines involved in the quarry activities last night.
Gram panchayat ex-pradhan held in forgery case
Nurpur, September 21
Following investigations undertaken by the local DSP, the Indora police today arrested Surinder Kaur, former pradhan of the Belli-Mahanta gram panchayat, in connection with a criminal case lodged against her by Surjeet Kaur, present pradhan of the same gram panchayat.


Feast of colours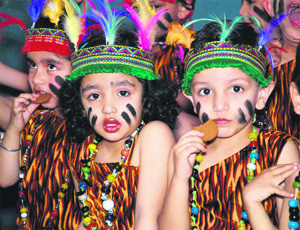 Schoolchildren take part in the annual function of Euro Kids in Shimla on Wednesday. Photo: Amit Kanwar
OBC Category
Accept certificate issued by competent authority, HPSSSB told
Shimla, September 21
The state high court has directed the Himachal Pradesh Subordinate Service Selection Board (HPSSSB) to accept the certificate issued by the competent authority if contains necessary particulars with regard to the OBC category and non-creamy layer status, irrespective of the form.
Steps to curb mishaps in Gobind Sagar
Bilaspur, September 21
The district administration has taken steps to ensure that there is no accidents in the Gobind Sagar.
Help get land for roads, MLAs told
Shimla, September 21
Chief Minister Prem Kumar Dhumal has urged MLAs to use their good office for getting private lands transferred to the name of the government to facilitate the construction of road projects in their respective areas.
Cover crop protection under MNREGA: CM
Shimla, September 21
Chief Minister Prem Kumar Dhumal today urged the Rajya Sabha Committee visiting the state to cover the protection of crops against wild animals and monkey menace under the Mahatma Gandhi National Rural Employment Guarantee scheme (MNREGA).
1,413 HIV positive cases in Kangra
Kangra, September 21
Himachal Pradesh has detected 5,198 HIV positive cases. These include 1,413 from this district alone. Drug abuse contributes to HIV transmission through the sharing of needles by intravenous drug users (IDU). There is increased sexual risk and subsequent spread of sexually transmitted infections, including HIV.
12 hurt in Kangra road accidents
Kangra, September 21
Twelve persons were injured, two of them seriously, in two different road accidents in Dehra subdivision today, the police said.