M A I N N E W S
Quake toll climbs to 116
Rescue teams yet to reach remote areas; 400 foreign tourists stranded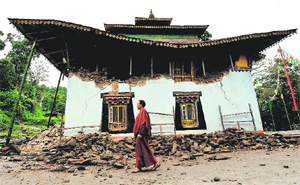 A Buddhist monk walks past the damaged Ringhim Monastery in Mangan. The recent quake reportedly caused Rs 3,400-crore damage in the Darjeeling Hills. — AFP
Mangan (Sikkim), Sept 21
Twenty more bodies were recovered in quake-hit Sikkim taking the toll in Sunday's powerful 6.8 magnitude tremor to 116 amid reports that 400 foreign tourists were stranded in the worst-affected North district.
The toll is likely to go up further with rescue teams still to reach about 15 villages in the North district.
While the toll rose from 53 to 73 in Sikkim, West Bengal has reported 12 deaths, nine in Bihar, 11 in Nepal, seven in Tibet and one in Bhutan.
Officials said rescue teams found six bodies in east Sikkim and 14 in North Sikkim as they managed to enter Dzongu from Mangan, the headquarters of North Sikkim where the strong quake was epicentred.
About 400 foreign tourists were stranded in North Sikkim and efforts were underway to reach them, a Union Home Ministry official said.
District collectors have been asked to reach Mangan, Lachen, Lachung and Chungthan, rendered inaccessible by the landslides, immediately by air as more bodies are feared to be trapped in under quake debris.
An official release in Gangtok said roads to Namchi and Jorethang in South Sikkim have also been reinstated. Geyzing in West Sikkim is now accessible by road.
The other arterial roads in West and South Sikkim have also been partially opened and light and emergency vehicles are reported to be plying, it said.
Defence forces struggled hard to clear mud, rocks and boulders blocking roads to reach the affected areas. In Lalchung, injured and stranded passengers of a bus were rescued in an army helicopter in a daring operation as there was no place to land.
Two Brigadiers jumped down nearly seven to 10 feet from the chopper to make for the passengers, one of whom was seriously injured while another had died. The passengers were helped into the hovering aircraft.
Over 300 people were injured, the sources said.
The sources said the rescue party, which include personnel of the army, NDRF and local people, would have to clear at least 30 to 40 major roads blocks created by debris of landslides to reach about 10-15 major villages.
"We have no idea of the condition in villages like Sakyong-Pentong, Bey which were in forested areas beyond Dzongu," an official said.
The villages in Sikkim are scattered and there is only one major highway connecting Mangan to Dzongu. The rescue operation was also hampered by intermittent rains, the sources said.
The rescuers also met people who walked for two days through hilly terrain and forests to reach Mangan from Dzongu. Some of the people of Mangan expressed unhappiness with the visiting mediapersons for worrying only about tourists and ignoring locals.
One of them, W Bhutia, said: "You (media) people are only interested about what happened to tourists. They receive the best of services from hotels. Nobody bothers to take note of what is happening to poor people like us." Meanwhile, army sources said 8-10 km stretch at Tung, which is 16 km off Mangan, had caved in impeding rescue operators from reaching worst-hit Chungthang.
Sikkim Director General of Police Jasbir Singh said the Border Road Organisation personnel were deployed to clear the highway. — PTI
120 persons missing
Tung (North Sikkim): There is still no trace of 120 residents of Bay village in North Sikkim, located between Lachung and Chungthang, after Sunday's powerful quake even as a flash flood at Lachung poses a fresh threat of landslides. "We find no trace as yet of 120 persons living in 14 huts at Bay village as the area is totally devastated. There is a lot of debris and the residents have gone missing," said National Disaster Response Force (NDRF) team in-charge Nisith Upadhyay here.— PTI
Tagore's houses damaged
Darjeeling: Two houses in Kalimpong and Mongpo in the Darjeeling hills, where Nobel laureate Rabindranath Tagore penned some of his memorable poems, were damaged in the quake that rocked Sikkim and other parts of North-East. Sources said "Gauripur Niwas" in Kalimpong, where Tagore lived in mid-1930s, and "Rabindra Bhavan" at Mongpo, where he stayed towards the end of his life, also developed cracks in the quake. — PTI
Rahul Gandhi visits quake-hit Sikkim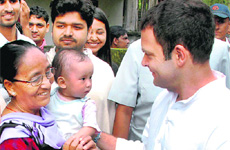 Gangtok: Congress leader Rahul Gandhi on Wednesday made an aerial survey of quake-hit north Sikkim, besides visiting an affected village and a hospital here. Accompanied by Sikkim Chief Minister Pawan Kumar Chamling, he made the aerial survey of the north district which had suffered the maximum number of casualties — 37, officials said here. — PTI


Rahul with quake victims. — PTI