PUNJAB

HARYANA

JAMMU & KASHMIR

HIMACHAL

REGIONAL BRIEFS

NATION

OPINIONS

LETTERS

BUSINESS

SPORTS

WORLD

Every Wednesday & Saturday

Ration meant for poor embezzled
Srinagar, September 30
The government has admitted that 4,200 quintals of ration meant for inhabitants of the inaccessible Marwah tehsil of Kishtwar district has been embezzled by officials of the Consumer Affairs and Public Distribution Department (CAPD). The ration meant for poor people, especially belonging to BPL families, was sold in the open market, causing hardships to the people of this backward region.
Abhinav Theatre in a shambles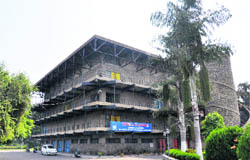 Jammu, September 30
Abhinav Theatre, the only platform for theatre artistes located on the premises of the Academy of Art, Culture and Languages, is in a shambles. The auditorium having a capacity of 700 seats was inaugurated in 1978. At that time, it was among the top ranking auditoriums with state-of-the-art light and sound systems. But today, it is a victim of government apathy.
Students expelled for 'exposing irregularities'
August 28, 2011
Welfare schemes fail to benefit poor
August 24, 2011
Migrants live the hard way at Jagti
August 21, 2011
Refugees have little hope
August 11, 2011
Akhnoor takes the lead
August 10, 2011
Ration scarcity continues to hit commoners
August 31, 2011
Encroachers rule the roost in Jammu
August 27, 2011
Quackery thrives in Jammu
August 17, 2011
Subsidy fails to promote biogas unit scheme
August 13, 2011
Contractors delay work to escalate project cost
August 10, 2011