Red tape hits sports projects in Doon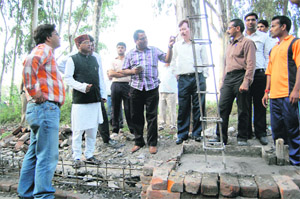 Dehradun, October 10
Several projects which are to be set up in the state capital by the Sports Department have been delayed due to bureaucratic red tape. Out of the five main projects proposals for which were sent to the state government, construction work on only two could be started but sadly it is going on a snail's pace, putting players and officials in utter inconvenience.


Sports Minister Khazan Das (with a cap) and Dehradun Mayor Vinod Chamoli inspect the construction of a boundary wall at the Parade Ground in Dehradun on Monday. A Tribune photograph

MDDA seals illegal structure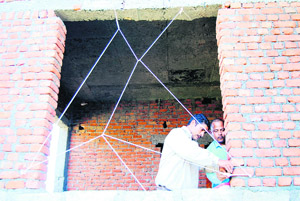 Mussoorie, October 10
The Mussoorie-Dehradun Development Authority (MDDA), acting on a complaint filed with the office of the SDM, Mussoorie, today sealed an illegal structure at Doodhli village, 5 km from here. The MDDA authorities, led by Executive Engineer Shyam Mohan Sharma, along with police personnel, arrived at the site in Doodhli village and sealed the alleged unauthorised structure.


The officials of the MDDA seal an illegal construction in Doodhli village near Mussoorie.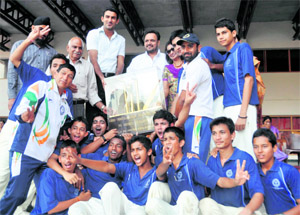 Aryan School are super 8s champions
Dehradun, October 10
Beating Summer Valley School in the final, The Aryan School won the Shri Rohitash Singh Memorial Inter-School Boys Super 8s Cricket Tournament that concluded at The Heritage School today.


The Aryan School team with the Shri Rohitash Singh Memorial Inter-school Boys' Super 8s Cricket trophy in Dehradun on Monday. A Tribune photograph

Vikasnagar Mass Suicide
Cops rule out foul play by Kailasho's son-in-law
Dehradun, October 10
Kailasho, the lone surviving member of the family whose 10 members reportedly committed suicide by jumping into Shakti Canal last week, was today discharged from Government Doon Hospital.
Ex-students visit Hampton Court School to mark 30th reunion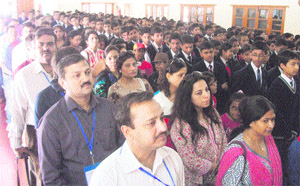 Mussoorie, October 10
More than 25 former students from Convent of Jesus and Mary Hampton Court School (1981 batch) today paid a visit to their Alma Mater along with their families to mark the 30th year reunion celebrations and reminisce the days in school.



Former students from Convent of Jesus and Mary Hampton Court School attend the 30th annual reunion celebrations in Mussoorie on Monday. A Tribune photograph

DM discusses projects
Dehradun, October 10
The Dehradun District Magistrate, Dilip Jawalkar, discussed about the damaged roads, proposals under the JNNURM and relocation of forest land with the officials here today.
Contractual lecturers hold silent protest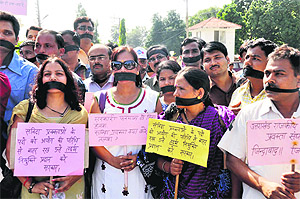 Dehradun, October 10
The contractual lecturers of the government colleges in the state today held a silent protest in support of their demands here. Wearing black bands on their mouths, the contractual lecturers marched from the Parade Ground to the Civil Secretariat holding placards highlighting their demands. Their agitation entered its fifth day today.
Contractual lecturers hold a demonstration in Dehradun on Monday. A Tribune photograph

Woman dies during delivery; kin create ruckus
Haridwar, October 10
An expectant mother died during delivery at a maternity home at Aryanagar today. Her baby, a girl child, could also not be saved.
Summer Valley prevail over Carman School
Dehradun, October 10
Akshay Negi starred in Summer Valley School's 1-0 win over Carman School, Premnagar, in a tooth-and-nail fight in the ongoing 13th Col Sashi Shamsher JB Rana Memorial Inter-School Football Tournament held at Cambrian Hall School, here today.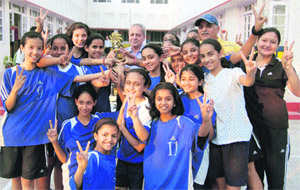 Welham girls lift title
Dehradun, October 10
Welham Girls' School found an easy rival in the host, Doon Girls School-A, whom it outplayed 24-4 in the final of the fourth Tek Chand Memorial Basketball (under-12) Tournament here today.
The Welham Girls' School team that won the Tek Chand Memorial Basketball Tournament in Dehradun on Monday. A Tribune photograph

Stadium Trainees, ITBP Club triumph
Dehradun, October 10
Stadium Trainees got the better of Race Course Boys 65-30 in a league match of the District-level (Under-17) Basketball Tournament held at the Parade Ground here today.