Ad hoc teachers continue fast
Dehradun, October 18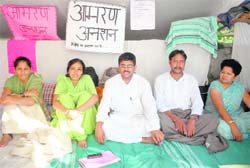 Demanding full-time appointment at government schools and removal of the posts of contractual teachers from the ambit of the Public Service Commission, the ad hoc teachers, under the banner of the Rajkiya Mahavidyalaya Samvida Pravakta Mahasangh, Uttarakhand, continued with their protest and chain fast in front of the Vidhan Sabha on the 12th day here today.

Contractual teachers sit on an indefinite fast in support of their demands in Dehradun on Tuesday. A Tribune photograph

Now, residents can register tourists as PGs
Dehradun, October 18
The owners of houses in Dehradun, Mussoorie and Rishikesh will now be able to register tourists as paying guests (PGs). Chief Development Officer Indu Dhar Bodai discussed various parameters of this new policy with the members of the Paying Guest Registration Committee at a meeting held at the Collectorate here today.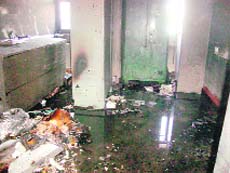 Computer centre gutted
Dehradun, October 18
A major fire broke out on the premises of the National Institute of Hydrology at Roorkee today. The incident took place at 1:45 pm at the computer centre located on the ground floor of the three-storey building of the institute. During their lunch break, the staff noticed the fumes coming out of the computer centre.


A computer centre that was gutted in a fire at Roorkee on Tuesday. Photo: Navreet Milton

No move to shift ICFRE HQ: DG
Dehradun, October 18
Amid reports of possible shifting of the Indian Council of Forestry Research and Education headquarters from Dehradun to Delhi, ICFRE Director General VK Bahuguna today denied any such move while disclosing that any such shifting was restricted to opening up of an institute's extension counter in Delhi.
Governor interacts with students from Mathura
Dehradun, October 18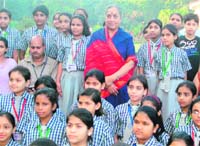 Uttarakhand Governor Margaret Alva met a delegation of 95 girl students and six teachers from Kanha Maakhan Public School of Mathura at the Rajbhawan here today. The students, led by Public Relations Officer of the school Anup Sharma, are on a four-day study tour of Uttarakhand. The Governor interacted affectionately with the students and answered their queries.

Uttarakhand Governor Margaret Alva with students from Mathura at the Raj Bhawan in Dehradun on Tuesday.

Expert calls for steps to deal with tremor
Nainital, October 18
An expert from the National Disaster Management Authority (NDMA) has called for steps to deal with the possibility of an earthquake hitting Nainital which is already categorised as being located in an area having high seismic activity.
Awareness campaign for voters begins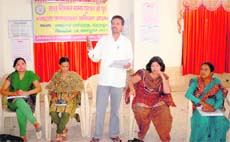 Dehradun, October 18
More than 30 social organisations and 20 Self-Help Groups today jointly launched a voters' awareness campaign in Dehradun to ensure that political parties address the core issues of the state.



A speaker during a voters' awareness campaign in Dehradun on Tuesday. A Tribune photograph

City final of Limca Book of Records quiz held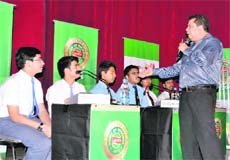 Dehradun October 18
The city final of the Limca Books of Record quiz 2011 was held at Scholar's Home here today. A large number of students of Class VIII to XII from over 60 different schools participated in the event. Divided in teams, students enthusiastically participated in audio-visual, general knowledge, buzzer round and showed their mettle.



A Limca Book of Records Quiz Competition is held at Scholars' Home in Dehradun on Tuesday. A Tribune photograph


Roorkee institute triumph
Dehradun, October 17
Quantum School of Technology, Roorkee, thrashed GRD Pharmacy by eight wickets in the ongoing UTU Inter-college Cricket Tournament at Raipur today.

Inter-School Hockey Tourney
Patna DPS, Kapurthala Sainik School romp home


Mussoorie, October 18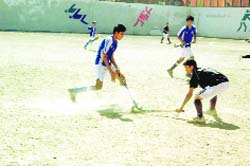 Delhi Public School, Patna, Sainik School, Kapurthala, and LB School, Jhansi, surged ahead in their pool in the ongoing All-India Richard Carr Inter-School Hockey Tournament held at the Oak Grove School grounds today. In the first match of their pool, Delhi Public School, Patna, defeated Modern School, Delhi 5-1. Adit from Delhi Public School sounded the board thrice to take his team home on the winning note.

Players in action in a match in the All-India Inter-school Hockey Tournament in Mussoorie on Tuesday.


Nehru Gram victorious
Dehradun, October 18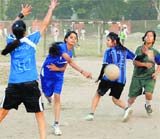 Khushi played a pivotal role to help Nehru Gram defeat KV ITBP 7-2 in the girls' junior league match on the second day of the District-level Handball Tournament held at the Parade Ground here today. Khushi topscored with five goals while Meenakshi scored the other two goals for the winning team. For the other side, Anjali was the only player who could score two goals.


A match in the District-level Handball Tournament in progress in Dehradun on Tuesday. A Tribune photograph