DM seeks volunteers' help in regulating traffic
Dehradun, October 20
District Magistrate (DM) of Dehradun Dileep Javalkar has lauded the Civil Defense Organisation for providing security in the city and holding blood camps from time to time. He said the organisation must come forward in helping aged people to get their rights.
Cops gear up for Divali
Dehradun, October 20
The Dehradun police has made elaborate arrangement to prevent any untoward incident during Divali.
UKD (P) supports agitating bodies
Dehradun, October 20
The Uttarakhand Kranti Dal (Panwar) has extended support to various organisations that have been holding protests outside the state Assembly in support of their demands for a long time.
Drop in number of BEd applicants, says assn
Dehradun, October 20
Owing to the delayed commencement of the BEd academic session 2010-11 at HNB Garhwal University, the number of BEd applicants at the self-financed institutes has decreased significantly.
Pine needle biomass power plant to be set up in Pithoragarh
Dehradun, October 20
A 120-KV pine needle biomass electricity plant is going to be established at Berinag village in Pithoragarh in the month of December by Avni Pine Needle Gasifier. It will start generating electricity by March next year. For the first time, a pine needle plant in the state, which has signed an agreement with the Uttarakhand Power Corporation Limited (UPCL), will be set for power generatation.
Ministerial association to stage protest
Dehradun, October 20
The Uttaranchal Federation of Ministerial Association will lay siege to the office of the ICDS Directorate on October 21 in a protest against non-fulfillment of their demands.
School exhibition organised
Dehradun, October 20
The Unison World School organised an annual exhibition on its campus here today.
'Khushiyon ki Sawari' benefits 1,187 patients
Dehradun, October 20
Since the start of the ambulance facility "Kushiyon ki Sawari" in Uttarakhand by the Deen Dayal Upadhyaya 108 Emergency Ambulance Services, a total of 1,187 patients, including women and children, have benefited from the schemes being funded by the National Rural Health Mission (NRHM).
PNB to open four new branches in rural areas
Dehradun, October 20
AK Verma, General Manager for UP West and Uttarakhand, the Punjab National Bank (PNB), disclosed today that the PNB would be opening four new branches in rural areas of Dehradun, namely Narendra Nagar, Raipur, Miyanwala and Mehuwala, by the end of the year.
Marathon 2011 on Oct 23
Dehradun, October 20
Bengal Engineering Group (BEG) and Centre, Roorkee, is all geared up to organise 'Marathon 2011' on October 23. Roorkee Marathon, an annual event since 2004 is being organised by the BEG.
Pharmacy institute humble DIMT
Dehradun, October 20
The Himalayan Institute of Pharmacy and Research beat DIMT by nine runs during the ongoing UTU Inter-college Cricket Tournament at Raipur today.
Handball: KV ITBP dominate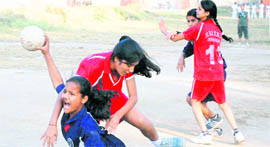 Dehradun, October 20
KV ITBP dominated the day winning both the junior boys and girls' league matches in the District-level Handball Tournament held at the Parade Ground here today .




A match under way in the District Handball Tournament played at the Parade Ground in Dehradun on Thursday. Tribune photo