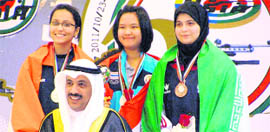 Doon shooter shines
Albha Oberoi, a pistol shooter from Dehradun, has won a silver medal in the Fourth Asian International Air Gun Championship held in Kuwait recently.



Albha Oberoi from Dehradun (extreme left), who won a medal in the Fourth Asian International Air Gun Championship held in Kuwait recently.

Pratirodh ka Cinema
Music videos strike a chord at festival
Nainital, November 1
A bonanza of short films and documentaries being screened at the third film festival titled "Pratirodh ka Cinema" (Cinema of Resistance) at the Chalet Hall here have drawn great appreciation from those interested in serious cinema.
Small cameras come in handy for tribesmen
Nainital, November 1
The emergence of the new media whereby videos can be shot with the help of small portable cameras and uploaded on sites like youtube.com has emerged as a potent tool for the tribesmen of Orissa who are fighting against the forces bent on exploiting the natural resources in their areas of habitat and displacing them.
Kiran Bedi exhorts students to join Anna cadre
Dehradun, November 1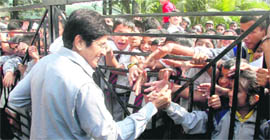 "I congratulate the Chief Minister of Uttarakhand, Major-Gen BC Khanduri for proposing the Lokayukta Bill in the state Assembly and if it gets passed, then Dehradun would be the first state in the country to support the movement against corruption," said Dr Kiran Bedi, a member of the Team Anna, who was here to address the students of St Joseph's Academy today.

Kiran Bedi shakes hands with students of St Joseph's Academy during her visit to Dehradun on Tuesday. A Tribune photograph

Mussoorie residents demand another LPG agency
Mussoorie, November 1
Owing to a continuous shortage of LPG cylinders and annoyed at the functioning of the Mussoorie Gas Sewa, residents are demanding the opening of another gas agency.
Birth anniversary of Kesari Chand celebrated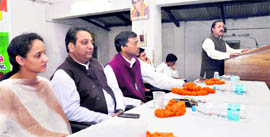 Dehradun, November 1
The 92nd birth anniversary of martyr Kesari Chand of the Azad Hind Fauz was celebrated in the city today.




Dignitaries at a function held in connection with the birth anniversary of Kesari Chand in Dehradun on Tuesday. A Tribune photograph

IIP scientists urged to develop innovative technologies
Dehradun, November 1
Union Minister of Science and Technology Vilasrao Deshmukh has called upon scientists to develop innovative technologies to make large quantities of petrol and diesel from one barrel of crude oil.
Sports Stadium win by 80 runs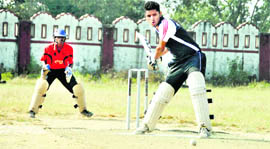 Dehradun, November 1
Sports Stadium, Mathura, won by 80 runs against UP Cobras whereas Sher-e-Punjab scored a 56-run victory over its rival, Tamil Nadu, in the Uttarakhand Youth Twenty-20 Cricket Tournament matches held at Survey Stadium here today.


A batsman in action in the Uttarakhand Youth 20-20 Cricket Tournament being played at Survey Stadium in Dehradun on Tuesday. A Tribune photograph

KV-Hathibarkala victorious
Dehradun, November 1
Kendriya Vidyalaya-Hathibarkala (number one) got the better of Kendriya Vidyalaya-OFD 12-6 in the boys' sub-junior category in the ongoing District-level Handball Tournament held at the Parade Ground here today.
Cantt Blue beat Shivalik
Dehradun, November 1
Cantt Blue beat Shivalik 3-2 in the ongoing Shaheed Jaideep Bhandari Memorial Football Tournament held at SGRR, Nehrugram, here today. Tushar (21st minute) and Rahul (44th and 50th) were stars in the win of Cantt Blue.
Stay on construction at Pilot Baba's ashram
Mussoorie, November 1
The row over the alleged encroachment and illegal construction on government land by Pilot Baba around his ashram, Kaya Kalp Peeth, Saing Kumalti, near Uttarkashi, is far from over with the a district court passing a stay order on further construction yesterday.
Regional athletics meet from Nov 8
Mussoorie, November 1
More than 12 schools will be participating in the regional athletics meet to be held from November 8 to 10 at the Survey ground here.