Mussoorie Clock Tower row refuses to die down
Ajay Ramola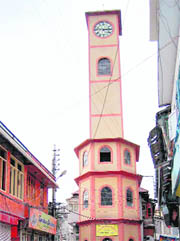 A file picture of the old Clock Tower that was demolished in Landour Bazar, Mussoorie
Mussoorie, October 25
It seems the controversy over the issue of historic Clock Tower demolition and its re-construction is back once again in the wake of a fresh public interest litigation (PIL) filed by Vinod Thapliyal having been admitted by the High Court, Nainital, on October 21. He has accused the Municipal Council (MC) of indulging in rampant corruption while awarding tenders for various projects, including the one related to the reconstruction of Clock Tower at Landour Bazar here.
The genesis of the Clock Tower controversy can be traced back to 2009 when a reputed businessman from Mumbai, Narang, opened a restaurant named "Clock Tower Café" right next to the old Clock Tower.
In the same year an alleged memorandum of understanding was signed between Sanjay Narang and MC President OP Uniyal where it was decided that the MC would build the structure after demolition and Narang would maintain the Clock Tower and carry out beautification of the tower on the pattern of the Big Ben tower of London at a cost of Rs 3,86,452. Narang had promised to donate an antique clock for the tower too. The MC signed a contract with Quality Construction owned by a close aide of Narang. The demolition work began in March, 2010, that evoked a massive protest forcing Bollywood actor and resident of the town Tom Alter to observe a one-day "Maun Vrat" near the site.
Following Tom Alter's protest, an inquiry under the SDM of Mussoorie Manoj Kumar was constituted in October, 2010, that found several anomalies in the whole process and indicted the MC for wrongdoings in the tendering process to benefit a few individuals.
Thereafter, a PIL was filed by social activists in the same month accusing the MC of rampant irregularities but it was dismissed by the High Court.
Meanwhile, Narang, disgusted with the controversy surrounding the matter, retracted on his earlier commitment thus bringing the construction process to a halt.
The MC, in December, 2010, citing non-compliance on the part of Narang awarded the tender of reconstruction of the tower to local contractor Parvesh Pant. The local traders supporting the cause of the Clock Tower held a clandestine meeting with Uniyal and emphasised involving Narang and his aide in the project as he had not charged single penny for the designing of the Clock Tower.
In August 8, 2011, another meeting was held on the premises of the MC among some local traders, Uniyal and Narang's close aide Manohar Lal where it was decided that the earlier proposal of awarding the tender of the Clock Tower construction (cost Rs 75 lakh) be taken away from Pant and awarded to Manohar Lal.
Since then the Clock Tower project has remained on the back burner.