Residents long for revival of cinema houses in Mussoorie
Ajay Ramola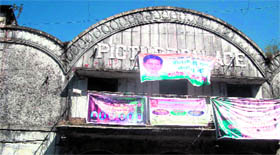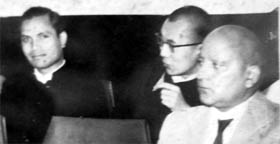 The present conditon of Picture Palace; and His Holiness the Dalai Lama (Below) Sees a film at the Rialto cinema house during his visit to Mussoorie in the sixties. Photo: Courtesy Vikas Hari, owner of Rialto cinema.
Mussoorie, October 27
The sound of dialogues delivered by superstars of Western and Hindi cinemas that once echoed while passing through six cinemas houses situated in Mussoorie is no more to be heard and has become a distant dream due to their untimely closure.
Not even a single cinema house is functional in Mussoorie, which once used to boast of six cinemas houses till 1990. Though their buildings still exist, they are in a state of dilapidation and on the verge of being converted into shopping malls. Silver screen lovers attribute the advent of several TV channels and pirated film DVDs and a high entertainment tax to the demise of good old-styled cinema houses.
Local historian Gopal Bhardwaj said the Electric Picture Palace was opened in 1912. One of the earliest cinemas of the country, it had a good business and showcased films both from hollywood and bollywood until it was closed abruptly in the late 1980s.
Another local historian and the author of book "Mussoorie Ek Dastavez," Jai Prakash Uttarakhandi, says during British Raj, the Electric Picture Palace also had a bar-cum-refreshment room and a billiards room, where one could take alcoholic drinks or tea inside the hall. He further said: "In 1925, the Picture Palace used to be considered on a par with London Theatre." Another cinema house, Jubilee, was also witness to many superhit films, especially that of Rajesh Khanna.
An eminent author from Mussoorie, Ruskin Bond, also recalled his days of watching movies in Mussoorie and said he had watched many hollywood movies during his childhood at Capitol Cinema Hall situated below the magnificent Hakman's Grand Hotel. It survived till late 1970s, but later its projector and the sound system gave way.
Javed Khan, a former manager of the cinema house situated at Library Bazar, said its name was changed twice. During British Raj, it was known as Majestic, then was renamed Brij and finally came to be known as Vasu Cinema.
Sunil Arora, a local resident, said another cinema house, Roxy, that was situated near the Rink was also renamed La-Anjuman. Here the sound was so loud that one could hear it out on the streets.
People like Dr VV Giri, a former President, and his Holiness the Dalai Lama had also watched films at famous Rialto Cinema Hall situated in Kulri Bazaar. Tom Alter, a bollywood actor, has also dedicated a book" Rerun at Rialto" to it. Today, all six cinema houses are lying closed. Some of the buildings like the picture palace have been purchased by big industrial houses.
Residents of the town have urged the administration to make efforts to reopen at least one cinema house in the town.