Potholes filled, says minister
Bilaspur, November 2
All potholes on the Chandigarh-Manali National Highway No. 21 have been filled and the erring contractor has been punished by charging a penalty of Rs 63.86 lakh.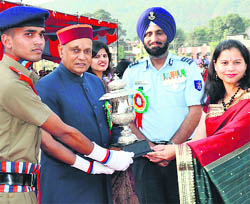 Dhumal assures Sainik School of financial help on its foundation day
Sujanpur (Hamirpur), November 2
Sainik School, Sujanpur, today celebrated its 34th foundation day and held its annual function in which Chief Minister PK Dhumal was the chief guest.




Chief Minister PK Dhumal gives away a trophy during the annual prize distribution function of Sainik School, Sujanpur, on Wednesday.

Swelling wage bill hits HPTDC hard
Shimla, November 2
The swelling wage bill and irrational deployment of staff are affecting the performance of flagship government companies like the Himachal Pradesh Tourism Development Corporation (HPTDC).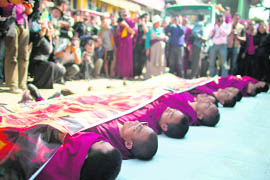 Tibetans protest as part of global campaign
Dharamsala, November 2
A large number of Tibetans living in exile organised protest rallies and a candlelight march here as a part of the Campaign for Global Intervention launched worldwide today to highlight the issue of self-immolations by Tibetan monks in Tibet.

Tibetans protest against China at McLeodganj on Wednesday. Photo: Kamaljeet

Doctors split over enhancement of retirement age
Shimla, November 2
The issue of extension of the retirement age of doctors serving in the three medical colleges from 58 to 63 has split the doctors fraternity in the state with medical officers and those serving in medical colleges holding divergent views.
Tanda college to study neuro disorders among children
Kangra, November 2
Dr RP Govt Medical College (DRPGMC), Tanda, has been selected as one out of 10 medical colleges in the country to carry on a multi-centric study titled "Neuro Developmental Disabilities" (NDDs) among children in India. The study would be conducted in 50 villages of this district to screen 2,500 children in the age group of 0-14 years.
Kaul Singh visits houses of Bandla road accident victims
Bilaspur, October 2
Congress party state president Kaul Singh Thakur visited houses of bereaved families of Bandla road accident victims at various Bandla mid-hills and villages, most of the journey being on foot, here today.
Bali assures YC delegates of special privilege
Nurpur, November 2
Raghubir Bali, son of former minister and sitting MLA of Nagrota Baghwan GS Bali, who is contesting election for the post of president of the state Youth Congress (YC), has assured newly elected delegates and members of the YC that they would be given special privilege after winning the election.
ADB team reviews power projects
Shimla, November 2
A four-member Asian Development Bank (ADB) team arrived here yesterday on a four-day visit to review the progress of various hydro-power projects funded by it.
Snag hits water supply in Solan, Kasauli
Solan, November 2
The non-availability of quality power for the much-hyped Rs 64-crore Giri Lift Water Scheme has led to a major snag in three of its motors thus hampering adequate water supply to about 21,000 people in Solan and Kasauli constituencies.
Farmers to stage protests today
Shimla, November 2
The Himachal Kisan Sabha will stage state-wide protests tomorrow to press its demands for streamlining the functioning of agriculture markets in the state.
Vikramaditya seeks support
Chamba, November 2
Vikramaditya, son of Union Minister of Micro, Small and Medium Enterprises Virbhadra Singh, categorically stated that his chief objective was to muster support of the youth of Himachal Pradesh and wage a campaign to bring the Congress to power during Mission-2012 of the party.
Gang of car thieves busted; ex-cop key member
Dharamsala, November 2
The district police has managed to bust a gang of car thieves operating in the state.
Murder of 96-year-old Man
Accused sent to judicial remand
Shimla, November 2
Aman Chaudhary, the accused in the murder of a 96-year-old man, was today remanded to two days' judicial custody.
Insurance Co. opens first branch in state
Shimla, November 2
The DLF Pramerica Life Insurance Company, a joint venture between DLF Limited and Prudential International Insurance Holdings, opened its first branch in the state in the Sanjauli locality here today.