MG College blank Faridkot
Fatehgarh Sahib, November 2
On the second day of the three-day Punjabi University Patiala Zone Inter-College Hockey Tournament being played at the grounds of Mata Gujri College, the local MG College team defeated Government Barjindra College, Faridkot, 5-0 in a one-sided affair.


High Court relief for freedom fighter's wife
Chandigarh, November 2
Allowing a petition filed by a freedom fighter's wife against the rejection of her claim for a revised Swatantrata Sainik Samman pension, the Punjab and Haryana High Court has imposed an exemplary cost of Rs 2 lakh on the Union government.
Three witnesses depose in court
Chandigarh, November 2
A local court today recorded the statements of three witnesses, including a municipal corporation councillor, Vijay Singh Rana, in the case involving Pakistan spy Kashif Ali. The court had recently framed charges against Kashif Ali and others.
Police submits supplementary charge sheet in court
Chandigarh, November 2
The Chandigarh police submitted a supplementary charge sheet in the case of murder and kidnap of five-year-old Khushpreet in a local court here today.
Mastermind gets bail
Chandigarh, November 2
Two days after the CBI filed its first charge-sheet in the PGI admission scam, a local court today granted bail to mastermind Gaurvan Shalin. Though the CBI had opposed Shalin's bail application, the court granted him bail on a surety of Rs 50,000. Gaurav, the main accused in the scam, is accused of running the racket involving admissions to the PGI in MD/MS courses in 2009.
High Court notice to CBI
Chandigarh, November 2
Taking up a petition alleging recruitment scam in the Food Corporation of India (FCI), Justice Nirmaljit Kaur of the Punjab and Haryana High Court issued a notice of motion to the CBI today.


Police nabs carjacker after hot pursuit
Zirakpur, November 2
After a two-hour chase right out of any Bollywood action flick, the Zirakpur police nabbed a car thief, but not before getting its own vehicles damaged.


Anwar, Rynold outshine Prashant, Murtaza
Chandigarh, November 2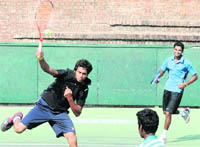 Anwar Shahul of Karnataka and his partner Rynold Timothy of Kerala defeated Prashant Soodamani of Maharashtra and Murtaza Lohani of Tamil Nadu in the match of the doubles category during the ongoing Sanjog Kapur Memorial-CLTA-AITA Men's and Women's-50K Open Tennis Tournament being held at the CLTA courts here today.
Anwar Shahul of Karnataka plays a shot during a doubles match of the CLTA-AITA Men's Tournament in Chandigarh on Wednesday. Tribune photo: Manoj Mahajan
GNPS eves thrash St Xavier's in basketball
Chandigarh, November 2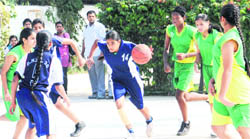 Guru Nanak Public School, Sector 36, defeated St Xavier's School, Sector 44, in the girls' U-19 category of the ongoing St Xavier's Inter-School Basketball Tournament for Boys (U-15) and Girls (U- -19) being held on the school premises here today.
A player of Guru Nanak Public School charges into the opponent's territory during a match of the Inter-School Basketball Tournament for Girls at St Xavier's School in Chandigarh on Wednesday. Tribune photo: Manoj Mahajan
Rahul, Shrey register victories in tennis
Chandigarh, November 2
Local player Rahul Seth and Shrey Gupta of Haryana defeated their rivals in their respective matches at the quarterfinal stage of the ongoing Manav Mangal-AITA Talent Series Tennis Tournament for Boys and Girls (U-16) being held here today.
Ferozepur college pugilists hog limelight
Chandigarh, November 2
Boxers of Dev Samaj College for Women, Ferozepur, bagged first position with 21 points during the ongoing Panjab University Inter-College Boxing Championship for Women being held at the gymnasium hall of Panjab University here today.
Badminton meet from Nov 9
Chandigarh, November 2
The Chandigarh State Badminton Championship will begin from November 9 to 13 at the badminton court of Sports Complex, Sector 42.
Satnam outplays Rajvinder
Chandigarh, November 2
Veteran player Satnam Singh with his experience defeated a young cueist, Rajvinder Singh during the ongoing 28th State Billiards and Snooker Championship being held here today.
Ankit, Munish guide GMSSS-19 to victory
Chandigarh, November 2
Government Model Senior Secondary School, Sector 19 (GMSSS 19), defeated St Anne's School, Sector 32, in a match of the Inter-School T-20 Cricket Tournament being held here today.
St Stephen's open account with win
Chandigarh, November 2
St Stephen's School beat Youth Football Club, Rurka Kalan, Phagwara, in the opening match of the 6th Kanwar Harbans Lal Memorial Football Tournament for Boys (juniors and seniors) being held at the Football Stadium, Sector 17, here today.
Dhudike lads overcome Doraha college in hockey
Chandigarh, November 2
LLR Government College, Dhudike, overcame GNN College, Doraha, in a match of the ongoing Panjab University Inter-College Hockey Tournament for Boys (A-Division) being held at the hockey stadium, Sector 42, here today.