Justice Srivastava is chairman of judicial panel
Dehradun, November 10
After Justice BC Kandpal, who was probing into the alleged 56 scandals of the previous Congress regime resigned, the Uttarakhand government has appointed Justice SN Srivastava as the new chairman of the judicial panel into the scandals.
Gurpurb celebrated with fervour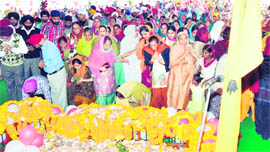 Dehradun, November 10
Huge congregation echoed with the recital of hymns and prayers offered by thousands of Sikhs at Gurudwaras across the Doon Valley to mark the festival of Guru Nanak Jayanti here today.



Sikh devotees pay obeisance at the Race Course gurdwara in Dehradun on Thursday. A Tribune photograph

Doctor to launch poetry book today
Mussoorie, November 10
Dr Venu Sanon of Mussoorie is all set to make her debut as poet and add to the growing list of the authors from the hill town with her book of poetry titled "Realisation".


Lawyers convention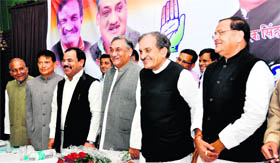 Senior Congress leaders along with Birender Singh, in charge of Uttarakhand party affairs, at a lawyers' convention in Dehradun on Thursday. A Tribune photograph
Ex-servicemen thank CM
Dehradun, November 10
Brig KG Behl (retd), president of the Dehradun Ex-Services League, Uttarakhand, has thanked Chief Minister Khanduri for announcing several concessions especially for the ex-servicemen on the occasion of state's Foundation Day.
In-patient facility at Fortis delayed
Dehradun, November 10
Inordinate delay in vacating the premises and absence of the single window clearance has put brakes on the Fortis Escorts Heart Centre facility that was to become fully functional by November at the Coronation Hospital.
Stolen laptop recovered
Dehradun, November 10
The Prem Nagar police came into action when laptop of Gargi Singh, a B.Tech student of Petroleum University, got stolen a few days ago. She is a relative of a senior official of the state government.
Nirmala Inter-college overall champions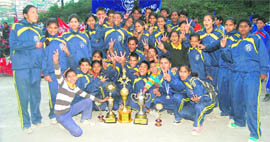 Mussoorie, November 10
Nirmala Inter-college were declared overall champions with 176 points on the concluding day of the regional athletics meet held on the Survey ground here today. The hosts Santan Dharm Inter-college were declared second with 156 points and St Lawrence School third with 106 points.

The winners of the 11th Regional Athletics Meet in Mussoorie on Thursday.

PAU defeat Doon University
Dehradun, November 10
Punjab Agriculture University, Ludhiana, and Uttarakhand Technical University won their respective matches on the opening day of the North-Zone Inter-university Cricket Tournament being organised by Uttarakhand Technical University (UTU), here today.
State open junior tennis tourney begins
Dehradun, November 10
The 13th Uttarakhand State Open Junior Tennis Tournament began at Shanti Tennis Academy (STA) today. Pradeep Walia, secretary, Uttarakhand Tennis Association, inaugurated the tournament. More than 50 participants from different districts and schools are participating in the four-day tournament.
Hilton School win basketball tourney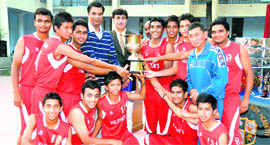 Dehradun, November 10
Hilton School defeated Summer Valley School to lift the AC Deb Memorial Invitation Basketball Inter School Tournament played at Raja Ram Mohan Roy Academy, here today.



The Hilton School basketball team with the AC Deb Memorial Invitational Basketball Tournament trophy in Dehradun on Thursday. A Tribune photograph

Rushil, Abhishek, Anushtha, Megha adjudged best badminton players
Dehradun, November 10
In the Inter-School Council Girls and Boys Badminton Tournament 2011, Summer Valley School clinched the junior boys title, Brightland School the senior girls title and Doon School the senior boys title.
Bajrang Club beat Doon Star
Dehradun, November 10
Bajrang Club beat Doon Star, scoring 4-1 in the ongoing Shaheed Jaideep Bhandari memorial football tournament held at SGRR, Nehrugram, here today.
DAV PG College lift v'ball title
Dehradun, November 10
DAV PG College, Dehradun, yesterday won the two-day Inter-college Volleyball Tournament organised by Swami Ram Teerth (SRT) College at the Badshahi Thaul grounds in Tehri Garhwal.
Himalayan Public School win
Dehradun, November 10
The Himalayan Public School won over St Joseph's Academy 12-4 on the third day of the Inter-school Junior Boys Basketball Tournament at the Heritage School, here today.