Cops not available for anti-encroachment drive of DMC
Dehradun, November 4
The anti-encroachment drive, which the Dehradun Municipal Corporation (DMC) was to initiate on the Chakrata road today, was reduced to challaning of rehriwalas at the Clock Tower, the Parade Ground, Survey Chowk and on EC Road whereby it impounded six rehris.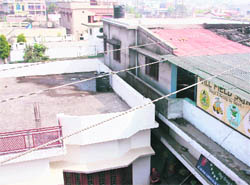 Electrocution due to High-tension Wires
No steps to check loss of human lives
Dehradun, November 4
No government department is coming forward to provide any viable solution to avoid the loss of precious human lives owing to electrocution after coming into contact with high-tension wires passing closely through residential colonies here.

High-tension wires over Will Field School in Dehradun. A Tribune photograph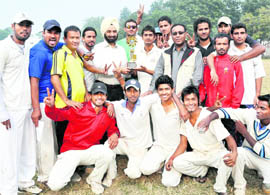 Ghaziabad XI lift T20 title
Dehradun, November 4
Ghaziabad XI won the Uttarakhand Twenty20 Cricket Tournament by defeating Garhwal Sports Academy by seven runs in the final match of the tournament played at the Survey Stadium here today.




The Ghaziabad XI cricket team that won the Uttarakhand Twenty20 Cricket Tournament in Dehradun on Friday. A Tribune photograph

Convocation held at DBS PG College
Dehradun, November 4
Clad in black robes and red and yellow scarves, a large number of passed out students from DBS PG College were awarded degrees during the 3rd Annual Convocation Day, here today.
State advisory council needed for higher education, says Governor
Dehradun, November 4
Uttarakhand Governor and Chancellor of Doon University Margaret Alva said here today that the university had made rapid progress in the two years of its existence and could play an important role in improving the quality of higher education in the state.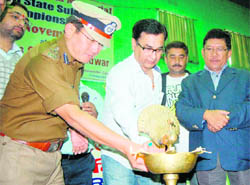 Badminton tourney begins in Haridwar
Haridwar, November 4
The 11th Uttarakhand Sub-junior Badminton Championship began at the state-of-the-art City Sports Complex here today.





Sanjay Gunjiyal, DIG (Garhwal Range), inaugurates a badminton championship in Haridwar on Friday. Tribune photo: Rameshwar Gaur

Varsity signs MoU with industrial body
Dehradun, November 4
Graphic Era University today signed a memorandum of understanding with the Industries Association of Uttarakhand for training its students under the supervision of industry experts and the university faculty.
Chandragupta section wins RIMC PT contest
Dehradun, November 4
The Chandragupta section of the Rashtriya Indian Military College (RIMC) won the physical training (PT) competition held here today. The first phase of the competition was held in the form of PT drills to test the cadets' efficiency and will to excel.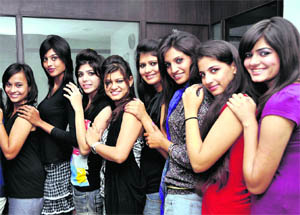 Participants of a Miss Beautiful Hair contest held in Dehradun on Friday. A Tribune photograph
Freshers' party organised
Dehradun, November 4
To welcome the new batch of MBBS students, the SGRR Institute of Medical and Health Sciences, Dehradun, held a freshers' party here today.
School celebrates annual day
Dehradun, November 4
Students of the Heritage School celebrated 58th Annual Day "Kala Vandanam" with great enthusiasm and fervour on the school campus, here today.
Balaji blank Akranta
Dehradun, November 4
Balaji beat Akranta 2-0 in the ongoing Shaheed Jaideep Bhandari Memorial Football Tournament at the SGRR, Nehrugram, here today.
Results of kabaddi quarterfinals
Dehradun, November 4
In the quarterfinals (boys) of the Inter-school SGRR Sahodaya Complex Kabaddi Tournament, SGRR Racecourse beat SGRR Bombaybagh 21-15 here today.
Shivalik College lift cricket title
Dehradun, November 4
Shivalik 4College of Engineering, Dehradun, defeated College of Engineering, Roorkee, by 44 runs in the final of the Inter-college Cricket Tournament of the Uttarakhand Technical University played here today.