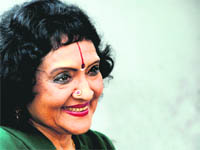 Hoton pe aisi baat…
It's all in her eyes, which look around, acknowledging the presence of curious faces. They gleam when she smiles through them and begin to dance when they see the camera. Her eyes know it all! Dr Vyjayantimala Bali, the superstar of yesteryears, would let kahol-smeared vibrant eyes do the talking for her if the need be.

PHOTO: Pradeep Tewari

Model moves
Having left professional modelling seven years ago, Mehar Bhasin now runs a fashion academy and manages various events. In Ludhiana for Blenders Pride Punjab International Fashion Week 2011, Mehar was the showstopper for the collection by Sonu Gandhi for "she is a good friend".
Virtual Reality
There was a time when it all started with Nintendo. Today, movies are based on it and they are based on movies. And if there is one thing in technology that has changed more than the mobile phones, it is the concept of video games. We find out from gaming addicts whether or not the virtual and real worlds overlap.
Ajit Singh Mann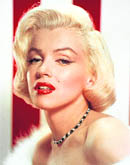 Knowing Norma
Photos of a teenage Marilyn Monroe as a model and a letter that she wrote to her foster mother will be up for auction next month. The model shots were taken by photographer Joseph Jasgur when Monroe was still Norma Jean, a 19-year-old aspiring model. There are a variety of shots that range from atop high buildings in Los Angeles to photos on the Zuma Beach. Her letter to foster mother Grace Goddard is expected to sell for over 50,000 dollars by the auction house Julien's.
Once in a lifetime!
Veteran Hollywood actor Morgan Freeman is set to receive the Cecil B DeMille Award for lifetime achievement at the Golden Globe Awards next year.
All in the moves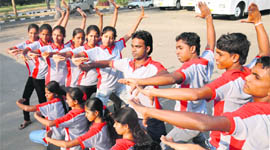 "Of all the dances forms, folk genre, with its spontaneous appeal and vibrance, evolving and flexible character, is close to everybody's heart. Our folk dances have won appreciation from audiences around the world," opine I P Senavirathna and Sujatha Siyamalqpitis, folk dance artistes from Sri Lanka. In Chandigarh with a dancing ensemble of 20 young artists on the invitation of ICCR for a performance at NZCC–Kalagram, the artistes share notes on their rich folk dance culture.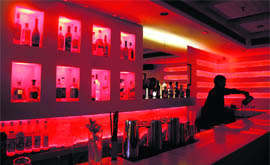 THE Foodies
Dig into delicacies
Icon, a boutique hotel in Sector 8, is another feather in the cap of pan-Asian food restaurants in Chandigarh. And this one has its own delights (bakery items being a strong contender for the freshness and melt-in-the-mouth effect, including Teppanyaki, tempura and a few of the starters), neatly done interiors and soothing rooms for visitors.
Flavours of Tuscany
Enter. A table displaying a variety of cheese like the parmesan, blue-veined, menthal and smoked cheese arranged with crackers, green olives, grapes, cherry tomatoes and a variety of virgin olive oils. Also, a collection of white and red wines like Ruffino Chianti and Ruffino Orvito resting on elegant stands.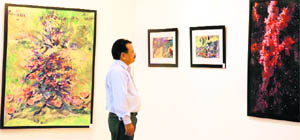 Stroke of genius
It ultimately comes down to paint and brush. But the way an artist projects feelings and thoughts says everything about the use of his paintbrush. Converging on the common platform of love for colours, two artists from the region have put up their works at Punjab Kala Bhawan, Sector 16.
Master Chef


Exotic offering
The tender meat of chicken has its own succulent taste and texture, which needs just the right amount of temperance and cooking time. With the judicious use of herbs, we can bring out the best of chicken without spoiling its original taste. Here is a recipe of Malaysian Chicken using the exotic spices of the East.
Weight watch
Tailor-made plan
If you want to improve the quality of life, you do not have to try hard. Here are some basic health tips that can be followed by most.
HEART talk


Pour your heart out
I am 25 years of age and I want to move out to a different place for professional reasons. My parents, however, are not happy with the idea. They want me to marry instead, which I am dead against. At one point, I was thinking of running away. What should I do?
Cooked, not raw food provides more energy
Contrary to popular belief, cooked food provides more energy than its raw version, which is particularly true of meat. The finding suggests humans are biologically adapted to benefit from cooking, which played a key role in driving our evolution from an ape-like being into one that resembles humans today.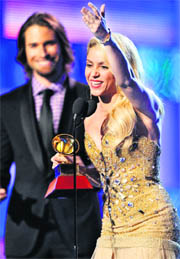 Sol mate:

Colombian singer Shakira was presented the award for best female pop vocal for Sale El Sol at the 12th annual Latin Grammy Awards in Las Vegas, Nevada. — Reuters
Star track
Dress circle
Gayatri Oberoi

n Mallika-e-Hollywood
n Happy to be bad
n FORCE-D to turn down
n Finally, A Working Day!
n Talaash for title
n Dance tribute
n Censor hurdle
chatter box
Veena's Swayamvar
Pakistani starlet Veena Malik who gained fame in India after her Bigg Boss stint is going to be back on television. She has signed up Imagine's reality show Swayamvar and is being paid cool Rs 3 crore. But there's more, if she ties the knot on the show, she will be paid an extra Rs 1.5 crore! Her good friend Ashmit Patel will be helping her choose the right groom.

n Suhana's Micheal Jackson avatar
n Crorepati going places
n Simple life
n Sandhya turns bull fighter
n Direct from the heart
n Studded wedding
n Kinshuk's marriage
first-day-first show
They truly rock you
Janardhan Jakhar (Ranbir Kapoor) a social nobody in a college in Delhi, good-for-nothing uncooperative son at home and a struggling musician! But Janardhan wants to change it all. So, when a well-wisher discloses the secret behind successful story that you have to fall in love and then break your heart, only then will your music become better, deeper, he befriends Heer (Nargis Fakhri); the most beautiful, sophisticated and popular girl in his college.