1,341 get degrees at IIT-R convocation
Tribune News Service



Deputy Chairman, Planning Commission, Montek Singh Ahluwalia delivers the convocation address at the Indian Institute of Technology, Roorkee, on Saturday. Photo: Navreet Milton
Dehradun, November 12
The shining eyes and smiling faces said it all. Dressed in red and black robes, the students of Indian Institute of Technology, Roorkee, were rewarded for their hard work with degrees at the 11th convocation ceremony held at Roorkee.
A total of 1,336 degrees were awarded which included 508 degrees in the technical graduation stream, 714 in the technical post-graduation stream and 114 PhDs.
The institute also awarded five Integrated Master of Technology degrees for the first time in polymer science and technology during the ceremony.
Analjit Singh, chairman of the board of governors and the founder and chairman of Max India Limited, conferred the Doctor of Science degree on Planning Commission Deputy Chairman Montek Singh Ahluwalia. Distinguished alumni awards were conferred on several others present on the occasion.
"You are fortunate to be part of a rapidly growing economy that in the past five to six years has grown by 8 per cent. India's growth rate will reach 9 per cent in the years ahead. During my growing-up years, it used to be too slow at 1.5 per cent," said Ahluwalia, while delivering the convocation address.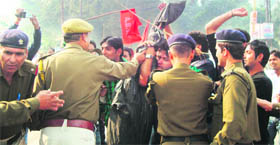 Policemen jostle with workers of the ABVP at Roorkee on Saturday. Photo: Navreet Milton
Ahluwalia exhorted the new generation to brace up for upcoming changes and encouraged them to become entrepreneurs.
He said that climate change and the pressure of depleting water resources would be major constraints in the next 20 years as 80 per cent of the land in the country was agricultural.
"These may call for rapid base infrastructure changes. Changes will also be needed in policy," said Ahluwalia.
Meanwhile, Ramnik Jain was awarded the President's Gold Medal for securing the highest point average among graduating students of the institute.
"I am thrilled as my years of hard work has paid off," said 22-year-old Ramnik who was awarded a BTech in computer science.
He said that IIT Roorkee was the only institute among the IITs which holds its convocation four months after the completion of the course. This enables the passing-out students to return to the institute and meet faculty members and juniors.