Rahul launches Cong's Mission-2012 in UP
Shahira Naim/TNS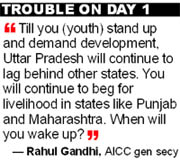 Phulpur (Allahabad), Nov 14
Presenting the "angry young face" of the Congress, AICC general secretary Rahul Gandhi today wanted to know when the youth of the state would wake up and demand a change of guard.
Addressing a public meeting at the Railway Ground, Triveni Nagar, Phulpur, to mark the launch of the Congress' "Mission 2012", Rahul exhorted the youth to stand up and work for a change. "Till the time you do not bring a change, there would continue to be a government of this caste or that caste and not a government of the "aam aadmi" of the state," he said.

"Till you stand up and demand development, Uttar Pradesh would continue to lag behind other states. You will continue to beg for livelihood in states like Punjab and Maharashtra. When would you wake up? I need an answer," Gandhi vociferously demanded to know. In fact, this statement of his sparked a controversy over the use of word "begging".

In his unusually forthright 15-minute address, the Congress leader spoke extempore and concentrated on the alleged mis-governance during the BSP rule in the state and virtually answered Mayawati's query on the cause of his anger.
"I am sad and angry as people are disempowered. The poor continue to be excluded from the process of development," Gandhi listed the cause of his anger.
The rally was strategically scheduled on the 122-birth anniversary of Gandhi's great grandfather, India's first Prime Minister Jawaharlal Nehru, who represented the Phulpur parliamentary constituency in the first parliamentary elections in 1952.
The massive banner on the dais symbolically had a picture of smiling Nehru and a pensive one of Rahul Gandhi. Between these two larger than life images were miniature portraits of Congress president Sonia Gandhi and Prime Minister Manmohan Singh waving down at the crowds.
The misuse of central funds meant for the "aam admi" of Uttar Pradesh remained the focus of Gandhi's address.
Giving an example of the massive bungling of central funds, he referred to the information furnished on the RTI application filed by him along with UPCC president Rita Bahuguna Joshi into the state's NRHM scam.
"Under the Janani Suraksha Yojna, Rs 1,400 is given to a mother for having an institutional delivery. This curiously resulted in several thousand women in Uttar Pradesh having a child every week. Looking closely at the records one finds women with the same names having 52 children within a year," pointed out Gandhi.
According to him, the common people of the state whom he meets, shares meals with and spends nights talking about their problems have taught him the most about the real India.