Omar meets PM, PC to discuss AFSPA
Talks about narrowing differences through consultation, compromise
Tribune News Service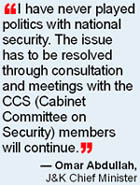 New Delhi, November 14
After days of debating over the removal of Armed Forces Special Power Act (AFSPA) from parts of Jammu and Kashmir, a semblance of sense has finally been restored. State Chief Minister Omar Abdullah today visibly softened his stand and talked about the role of "consultations" and clarified that he was not playing "politics" over national security.
Omar today called on Prime Minister Manmohan Singh and Home Minister P Chidambaram in the National Capital. Yesterday, he had met Defence Minister AK Antony. Omar's stand today was in sharp contrast to the verbal warning he issued a few days ago, saying the state was competent to remove AFSPA on its own. This was preceded by a statement in which he said he would not take "no" as an answer from the Indian Army in case of removal of AFSPA.
After meeting the Home Minister, Omar said, "The effort is to narrow down the differences and try to work out a compromise." He said the Army was not present in areas from where we wanted to remove AFSPA - Budgam, Srinagar, Jammu and Kathua.
On being told that separatists were threatening to take over areas as soon as AFSPA was lifted, Omar said, "Let them try it. This is a ploy of the separatists. If the act is not removed, they agitate against it and when we are trying to remove the Act, they will threaten and scare people."
He said, "I have never played politics with national security. The issue has to be resolved through consultation and meetings with the CCS (Cabinet Committee on Security) members will continue."
Sources said an immediate resolution was not expected and neither was the Chief Minister keen to apply more pressure. The Prime Minister had made it abundantly clear that an objective review was needed.
Sources said a compromise formula suggested by the Defence Ministry was that AFSPA should not be tinkered with, however, the Army could be asked to withdraw from selected districts and areas. This would allow redeployment of the Army in case things did not work out well. A suggestion of the Army was to consolidate peace and it had pointed out how its supply lines to Drass-Kargil-Siachen, all routed through Kashmir, could be disrupted.
On his part, the Defence Minister, while talking to reporters on the sidelines of a function, said he had a "very frank and very fruitful discussion with J&K Chief Minister on Sunday, but it was inconclusive... On our side, my opinion is that this being a very very sensitive issue, let us handle it in a very mature and cool manner".
Antony refused to give a time line and when he was asked if AFSPA would come up for discussion at a meeting of the Cabinet Committee on Security this week, he said: "Don't put any time limit."
Inter-governmental consultations were taking place and discussions on the issue would continue, the Defence Minister said while adding "considering that the infiltration attempts from across the border are continuing, we have to be careful 24/7."