PUNJAB

HARYANA

JAMMU & KASHMIR

HIMACHAL

REGIONAL BRIEFS

NATION

OPINIONS

LETTERS

BUSINESS

SPORTS

WORLD

Every Wednesday & Saturday

Misuse of red beacon vehicles goes on with impunity
Jammu, November 15
The misplaced sense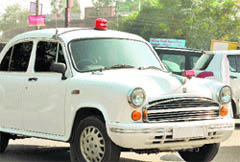 of importance being flaunted by certain "influential" people travelling in vehicles arbitrarily fitted with red beacons atop has become a public nuisance here. Under the State Motor Vehicle (SMV) Act, only 30 categories of the government servants are entitled to such privilege while on official duty, but the ground reality is starkly different.
Recruitment policy creates division between coalition partners
Suriansar, November 15
After the issue of revocation of the Armed Forces Special Power Act (AFSPA), the controversy of the new recruitment policy has been creating a division between two coalition partners- the National Conference (NC) and the Congress.
Rural areas to get better medicare facilities
November 12, 2011
Consumers in Jammu yet to get extra Diwali ration
November 9, 2011
State to set up spice park at Pampore
November 5, 2011
Centre sanctions Rs 69 cr for education sector
November 2, 2011
Efforts on to improve delivery of health services in state: Omar
October 29, 2011
Benefits fail to lure Kashmiri migrants
October 26, 2011
Decline in suicide, fratricide cases in armed forces
October 22, 2011
Decline in suicide, fratricide cases in armed forces
October 19, 2011
Health cover for over 66,000
October 15, 2011
Labourers await wages
October 12, 2011