PUNJAB

HARYANA

JAMMU & KASHMIR

HIMACHAL

REGIONAL BRIEFS

NATION

OPINIONS

LETTERS

BUSINESS

SPORTS

WORLD

Every Wednesday & Saturday

Rural areas to get better medicare facilities
Jammu, November 11
Minister for Health and Family Welfare Sham Lal Sharma has reiterated the commitment of the coalition government to upgrade the medicare facilities across the state, particularly in the rural and far-flung areas.
Natrang stages play Bawa Jitto at Jhiri Mela
Jammu, November 11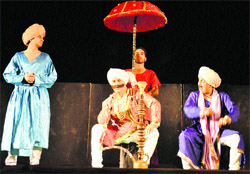 Artistes of the Natrang theatre group today paid tributes to the folk hero of the farming community, Bawa Jitto, here by staging two shows of a play based on his life at the ongoing Jhiri Mela.
Artistes enact a scene from 'Bawa Jitto', directed by Balwant Thakur, at 'Jhiri Mela' in Jammu.
Winter secretariat starts functioning at Srinagar
Srinagar, November 11
The winter secretariat started functioning at the civil secretariat here recently. Minister of State for Roads and Buildings and Medical Education Javid Ahmad Dar was here on Wednesday to hear public grievances, an official spokesperson said.
Consumers in Jammu yet to get extra Diwali ration
November 9, 2011
State to set up spice park at Pampore
November 5, 2011
Centre sanctions Rs 69 cr for education sector
November 2, 2011
Efforts on to improve delivery of health services in state: Omar
October 29, 2011
Benefits fail to lure Kashmiri migrants
October 26, 2011
Decline in suicide, fratricide cases in armed forces
October 22, 2011
Decline in suicide, fratricide cases in armed forces
October 19, 2011
Health cover for over 66,000
October 15, 2011
Labourers await wages
October 12, 2011
Jagti abattoir remains a pipe dream
October 5, 2011