PUNJAB

HARYANA

JAMMU & KASHMIR

HIMACHAL

REGIONAL BRIEFS

NATION

OPINIONS

LETTERS

BUSINESS

SPORTS

WORLD

Every Wednesday & Saturday

Labourers await wages
Jammu, October 11
Despite directions by the minister concerned, the authorities have failed to clear the pending payments of labourers engaged under the national poverty alleviation flagship programme, Mahatma Gandhi National Rural Employment Act (MNREGA), in the Kandi areas of Kathua district.
Now, send apples through post
Srinagar, October 11
Postal Week celebrations were launched in Srinagar by Tourism and Culture Minister Nawang Rigzin Jora at a function, organised by Srinagar General Post Office here recently.
'Bankrupt' Kala Kendra fails to promote art
Jammu, October 11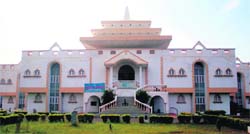 Kala Kendra, the centre for promotion of art and aesthetics, is in a state of utter neglect, thanks to an unclear policy to run its affairs.

The Kala Kendra complex in Jammu.

Jagti abattoir remains a pipe dream
October 5, 2011
Ration meant for poor embezzled
October 1, 2011
Students expelled for 'exposing irregularities'
September 28, 2011
Welfare schemes fail to benefit poor
September 24, 2011
Migrants live the hard way at Jagti
September 21, 2011
Refugees have little hope
September 17, 2011
Akhnoor takes the lead
September 10, 2011
Ration scarcity continues to hit commoners
August 31, 2011
Encroachers rule the roost in Jammu
August 27, 2011
Quackery thrives in Jammu
August 17, 2011
Subsidy fails to promote biogas unit scheme
August 13, 2011