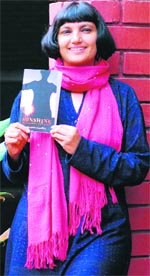 Survivor's tale
You live only once, count your blessings and everything shall pass…are some adages that we use in everyday life without giving much thought to their real meaning or worth. An avid traveller and writer Minakshi Chaudhry has fully grasped the meaning of these and more… A breast cancer survivor, Minakshi has gone through the regular phases that a cancer patient does - shock, denial, why me and what after…and, has emerged not only richer in experience, but, also, as an inspiration for the rest with the same fate. Her latest book (she has penned nine already) Sunshine: My Encounter With Cancer, recounts her personal challenging struggle and perspective on the deadly disease.



You can do it: Minakshi Chaudhry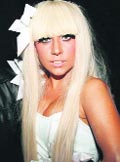 Scent of a hooker
Lady Gaga says her new perfume may have been based on blood and semen, but it smells like an 'expensive hooker'. Coty Beauty, which is the firm behind the fragrance, has not yet confirmed the details behind the name of the pop queen's creation. But given Gaga's fondness for the Monster association as her fans are called Little Monsters, and has given herself the moniker Mother Monster, as well as tattooed the name on her arm, so the name seems a likely one.

Lady Gaga
Song of the soul
She was into singing since her childhood. Thanks to the encouragement she got by her father late Ramakant Kaikini. Anupama Deshpande, a famous playback singer, got her break in 1983 when she started dubbing for films.
When silence speaks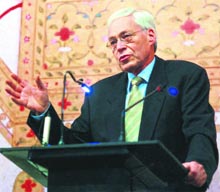 Once upon a time (to be precise, between 1710 and 1778) lived an exceptional painter Nainsukh whose art was the very embodiment of refined simplicity. And the same subtlety and finesse of his works relived on Friday evening in a film Nainsukh. In a screening organised by Chandigarh Lalit Kala Akademi and Pro Helvetia- Swiss Arts Council at the Government Museum Auditorium-10, audiences were led into a quiet world of aesthetics where silences were evocative and understatements emphatic.
Call of the yore: Eberhard Fischer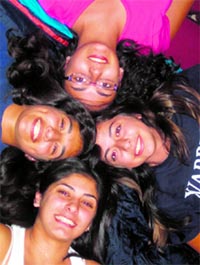 Party all night!
Long and convincing discussions with parents to seek permission to stay over for a night at a friend's place is something we have all gone through, especially during our teenage and twenties. And once the permission is granted, one just can't hold back the excitement for these slumber or sleepover parties. Nothing can compare with the night-long gossip sessions and the feeling of being together with friends! Says Ekakshra Mahajan, class 12th student from Carmel Convent, "I remember once I hosted such a party at my place. We were a gang of six girls and that night we watched a lot of TV at a high volume, as we were literally gossiping about everyone we knew." She adds, "We ate and chatted and did not sleep at all; it was so much fun."
One for the laadli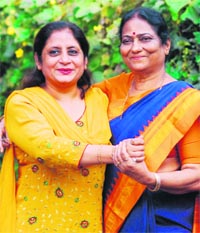 Keeping this philosophy in mind, Guru Shobha Koser and Banaras Thumri Diva, Dr Kumud Diwan joined hands to raise their voice against female foeticide. The noble cause has been initiated by SG Chandra foundation, which is dedicated to promoting education and women centric social initiates. "If we join hands together, there is every possibility that the initiativewill gain momentum and become a movement like Anna Hazare's," says Kumud Diwan, a semi-classical vocalist. Combining the excellence from the world of academia and the realm of music, the artist got attached to the cause when she realised that she could make a change. "As an artist, I feel it is my duty to contribute to society," she says.

Sisters in arms: Kumud Diwan and Shobha Koser
Bookworm
Revolutionary idea
It's not always that an author floors readers. Chetan Bhagt's Revolution 2020 is one such book, which has impressed Prabhnoor Narwan. Currently preparing for the civil services, this avid reader talks about the book and more…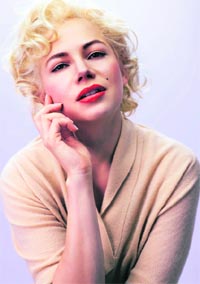 WHO'S THAT GIRL: Actress Michelle Williams as Marilyn Monroe is shown in a scene from director Simon Curtis' new film My Week with Marilyn. — Reuters

Foreign woes
A study has indicated when it comes to knowing or learning new words of foreign languages, not many Britons seem enthusiastic about it.
High Spirits
Parisian blonde cocktail
It's a new-age cocktail, known for elevating one's mood and refreshing spirit.
Mix-ed feelings
The Christmas season is here. Well, at least the Yuletide spirit is. And to capture the spirit Hotel Hometel-Chandigarh organised the cake mixing ceremony. For this important occasion, Sisters from Missionary of Charity were invited to grace the occasion.
Wedding bells for Genelia & Riteish
Genelia D'Souza has kept tight-lipped about her marriage plans, but her beau Riteish Deshmukh has confirmed in a media report that they have decided to get married early next year. And filmmaker Karan Johar, a close friend of the two, is "thrilled to bits".

Crossing over
Hollywood actress Scarlett Johansson is set to expand her career by turning director with Summer Crossing. The 26-year-old actress, who is teaming up with Oscar-winning producer Barry Spikings in the project, will work on the movie adaptation of Truman Capote's first novel.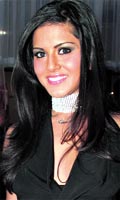 Strategic move
Indo-Canadian adult film star Sunny Leone, who is all set to enter the Bigg Boss house as a contestant this week, says the reality show is her gateway to the Indian entertainment industry. The 30-year-old businesswoman and model, who was named as one of the 12 top porn stars in 2010, says she always wanted to return to her native country and work here. "I've always wanted to enter into Bollywood in India and Bigg Boss was the first professional offer which came my way.


AIMING BOLLYWOOD: Sunny Leone
Adoption theory
Hollywood actress Queen Latifah wants to have children soon and although she hasn't ruled out getting pregnant she is ready to adopt.
Chatter box
Fashion Police
Stars and household chores
Nigaar Khan wants to lose inches