Fashion Police
Television stars are fashionable. At times, they look straight out of the fashion magazines but once in a while, they get it wrong. We take a closer look at how celebs dressed for the party of Star News' show Saas Bahu Aur Saazish
Standing tall
Be it on-screen or off-screen, Pratyusha and Shashank always know how to work it out. While the two look cute and adorable in this picture, we wish Pratyusha had worn higher heels.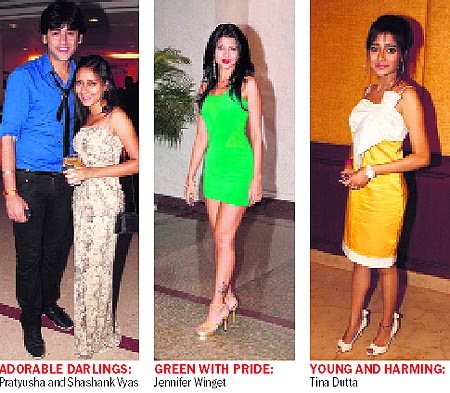 Getting it right
Be it her lips, earrings, dress or even her tattoo, everything about Jennifer complimented her look. She shows off her figure in this hugging green dress and made everyone green with envy for sure.
Wrong foot
Tina Dutta made quite an impact with this dress. She looked young and charming. However, we wish she had played around a bit with her footwear. All white is no fun.
No shades of grey
With a personality like this, Karan Singh Grover could have looked better. This white and black combination is quite boring for a party. A jacket would have done wonders to his look.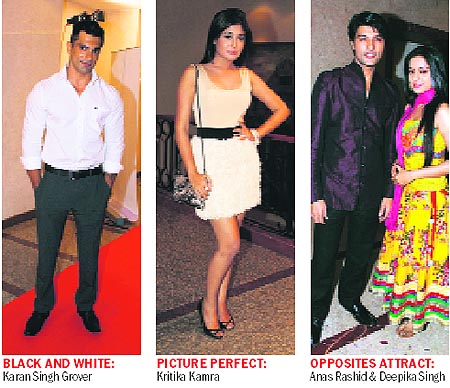 Snow white
Kritika Kamra wore white, and how! Take a look at the furry work on her pretty dress and that killer pose, you know what we mean. She looks glamorous and pretty.
Perfect compliment
Anas Rashid and Deepika Singh totally complimented each other and showed off their real fashion avatar which is the opposite of their onscreen demure ones.
— HRM
Stars and household chores
On television, stars can be seen performing various chores such as cooking food, cleaning dishes or their rooms. But do these telly town celebrities actually do such chores in real life? We find out what kind of work do our favourite stars like to do everyday…
Rubina Dalik
I usually don't get much time to spend at home as I am out shooting. But there is one chore that I perform everyday is making bed for my pets. Of course, it has become my responsibility and I love doing it. I like to cook as well but unfortunately, I don't get time to cook. Also, I like to light aroma candles. I love their fragrance and dim light.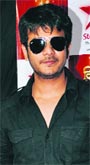 All clear:

Jay Soni

Jay Soni
I live with my parents, so my mom does most of the things for me. But as soon as I get home from shoot and if I see things lying around, I put them on their and make everything look tidy. I also keep my room clean. I am a cleanliness freak. At times when I get early, I don't wake up mom but make tea for myself.
Soumya Seth
I have to clean my room every day. It's my responsibility and I like it. But I don't really enjoy it sometimes. I am basically very moody when it comes to doing household chores. When I am in the mood, I will do everything from cooking and cleaning to dusting and weeping floors. But when I am not in the mood, I don't like to do much.
Krystle D'Souza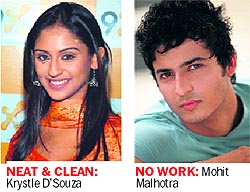 Before leaving for shoot every morning, I make sure that my room is clean and neat. I fold bed sheets, clothes, and keep everything tidy. It isn't something that has been put as a responsibility. But I can't stay in place that isn't clean. I love cleanliness so that's why I like to my room clean. That's the only household chore I do. Also, I can't cook. (Laughs)
Mohit Malhotra
I have servants for everything, so I hardly do any household chores and also I get no time. But usually one thing that I always do is I keep my clothes in the wardrobe and in an organised manner. At times, when I have time I put things to where they belong as servants sometimes have no clue where to put some of the things.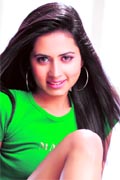 What's Cooking:
Sargun Mehta
Sargun Mehta
Honestly speaking, most of us actors don't get time to do household chores. I, too, don't get much time. But as soon as I'm home, I always check for things that lying around and put them on their proper place or clean my cupboard. I also love to cook for myself. I find it fun cooking for yourself as you are never afraid of experimenting as only you have to eat it.
Nigaar Khan wants to lose inches
Nigaar Khan who will soon be seen along with her sister Gauahar Khan on a reality show Khan sisters, has been really concerned about her weight and trying desperately to loose inches as she wants to look perfect on screen.
Nigaar who has tried dieting has now succumbed to a weight loss treatment with a known spa in Mumbai. When questioned about her weight loss procedure.
Nigaar said, "I will soon be seen in a reality show with my sister and I just want to make sure I put my best foot forward… and I don't think there is any harm in taking a little help from experts to get rid of those last few inches that are always the most difficult to get rid off."
Nigaar will be undergoing a procedure called 'Vibrator weight loss therapy' where one has to wear a vibrating belt on the spot where you want to loose inches, a special liquid gel is applied on the spot prior to the treatment and the procedure lasts for about 30mins.