Tanks come handy in political slugfest
Balwant Garg/TNS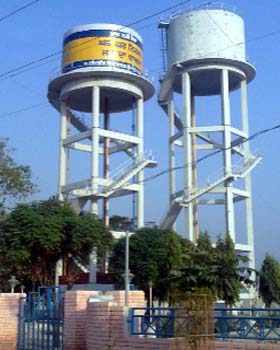 A water tank in Badal village being used for political blitzkrieg. A Tribune photo
Badal (Muktsar), November 22
It is not the think-tanks but the water tanks that the political parties have started using in this area in the run-up to the assembly elections. In Punjab Chief Minister Parkash Singh Badal's ancestral village, Badal, the water tanks in the village are being used for political blitzkrieg.
Painting the water tanks with dark blue and saffron colour strips and writing many political paeans: Raj Nahi Sewa, Ghar-Ghar Nirmal Jal Da Vayada (Not rule but service, safe pure drinking water to every household), the state government is boastful of providing safe and pure drinking water to every family. But the outstanding electricity bill of these water supply system is mocking at the authorities concerned in the area.
Dark blue and saffron colurs are used by most Akali party leaders and workers for their turban to show off their political affinity with the SAD (B).
The electricity bill of the water tanks, being used for political publicity, has not been paid for the last many months.
As per the information provided by the Punjab State Power Corporation Ltd, the outstanding bills of these two water supply tanks in Badal village is respectively Rs 4.27 lakh (connection No. MS-14/0007) and Rs 4.20 (connection No. BS-57/89).
Painting these water tanks in political colour, the ruling SAD (B) leaders think that these highly perched blitzkrieg is visible from a distance.
But the sources in Public Health Department revealed that as there was an inordinate delay in the release of funds for the payment of electricity bills, so the amount kept accumulating.
It is not only in Badal village where the electricity bill of these water supply system has not been paid but there are many villages in the area.
The outstanding electricity bill amount in the Lambi area is about Rs 64 lakh, revealed the sources.
Parmod Kumar, executive engineer, Public Health and Sanitation Department, said the electricity bill would be paid in the coming days as the amount has already been released by the head office in Patiala.