BJP starts damage-control exercise
Nainital, November 24
Scared of the political fallout of the recent lathi charge on the protesting Basic Training Certificate (BTC) trainees in the state capital, the senior leadership of the Bharatiya Janata Party (BJP) has started a damage-control exercise on the issue.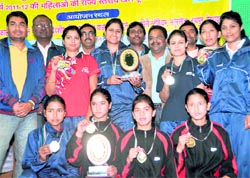 Pauri, Doon teams win titles
Dehradun, November 24
Pauri Garhwal and Dehradun district teams of women won the State-Level Badminton and Table Tennis Tournaments organised by the Youth Welfare Department here today.




The winners of the state-level badminton and table tennis tournaments for women organised by the Youth Welfare Department in Dehradun on Thursday. A Tribune photograph

Carrying forward father Vilayat Khan's legacy
Dehradun, November 24
Almost leading a peripatetic existence soon after leaving school, Ustad Shujaat Khan's life now at the age of 50 mirrors the quietly flowing river. Even the notes that he strings from his sitar have become mellowed, giving ample glimpses of his father Vilayat Khan's legendary sitar playing.
Guru's martyrdom day observed
Dehradun November 24
The martyrdom day of Guru Tegh Bahadur was commemorated in all gurdwaras of the city. Shabad Kirtan and katha were held throughout the day.
Incidents of Sedating Rly Passengers
DIG unhappy over progress in solving cases


Dehradun, November 24
Deputy Inspector General Sanjay Gunjiyal reviewed the incidents of sedating passengers by gangs at various railway stations in the state and expressed dissatisfaction over little progress in solving such cases. He discussed this subject with SSP Dehradun and SSP Haridwar in his office.

Sanjay Gunjiyal
RIMC cadet tops NDA merit list
Dehradun, November 24
The 170th course of Rashtriya Indian Military College (RIMC) has maintained the legacy by getting the top positions on the National Defence Academy (NDA) merit list.
Stress laid on good storage practices for IV fluids
Dehradun, November 24
The Mahila Samaj Sewa and Vikas Samiti, an NGO, today held an open discussion, emphasising the need to adopt the best storage practice for storing intravenous fluids (IV fluids).
Residents demand funds on basis of population density
Pithoragarh, November 24
Residents of the plain areas of Champawat district, consisting of Tanakpur and Banbasa blocks, have demanded that the funds allocated under the Central Government-sponsored scheme, Backward Areas Grants Fund, be made on the basis of population density instead of the present criterion of the backwardness of the region.
Gaurav powers Delhi varsity into cricket final
Dehradun, November 24
Delhi University will meet Guru Nanak Dev University, Amritsar, in the final of the North Zone Inter-universiy Cricket Tournament being organised by Uttarakhand Technical University here.
1,31,653 RTI requests received
Pithoragarh, November 24
State Information Commissioner Anil Sharma said here today that a total of 1,31,653 requests, including 5,690 of the first appeal nature and 6,280 complaints of the second appeal nature, had been made to him since the inception of the Information Commission in the state.