Posh area of Ranipur to get rid of waterlogging
Haridwar, November 21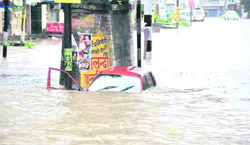 In what may come as a relief for the city residents, the district administration and the Bharat Heavy Electricals Limited (BHEL) authorities have worked out a solution to the problem of waterlogging in the city's posh area, Ranipur (Chandracharya Chowk) and Bhagat Singh Chowk.




The submerged Bhagat Singh Chowk. A Tribune file photo

Efforts on to restore damaged water schemes: Pant
Dehradun, November 21
Drinking Water Minister Prakash Pant said today that the Water Department was still recovering from the damage caused to the 132 water schemes during the rains last year.
UKD(P) holds march against expulsion of trainee cops
Dehradun, November 21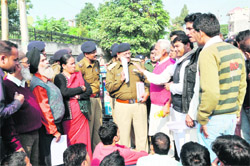 President of the women wing of the Uttrakhand Kranti Dal (Panwar) Promila Rawat held a march from party office to the office of the Director General of Police (DGP) to protest against the expulsion of 300 trainees by the state Police Department recently.





Uttarakhand Kranti Dal (P) workers submit a memorandum of demands to police officials in Dehradun on Monday. A Tribune photograph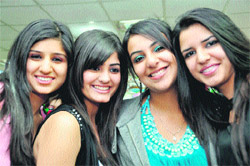 Miss Fresh Face contest held
Dehradun, November 21
A sub-contest of the Miss Uttarakhand Contest 2011 "Miss Fresh Face" was organised here today. A total of 21 models from all over Uttarakhand participated in the event.






Participants of a Miss Fresh contest in Dehradun on Monday. A Tribune photograph

Meeting of dist-level officials held
Doiwala, November 21
Block president, Doiwala, Nagina Rani today held a meeting, which was attended by district-level officials, to discuss the progress on various schemes and action taken on the grievances of the public. She has directed the officials to take timely action on the complaints filed by the people of the area.
Chakrata traders protest against MDDA officials
Dehradun, November 21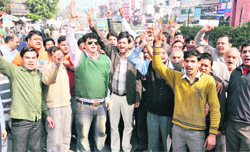 President of the Freehold Trader Association Virender Rawat and other members did not allow PWD officials monitor and prepare an estimate of value of the freehold properties which are situated on the part of the Chakrata Road which is to be widened.




Shopkeepers of the Chakrata road hold a protest at the Clock Tower, Dehradun, on Monday. A Tribune photograph

Summer Valley School triumph
Dehradun, November 21
Summer Valley School and Raja Ram Mohan Roy Academy today won their respective matches in the Inter-council Schools Senior Boys Basketball Tournament played at Raja Ram Mohan Roy Academy here.
8 students felicitated at science congress
Mussoorie, November 21
Eight students were felicitated in the 19th Children Science Congress held at Government Inter-College in Gorakhori, situated near Nainbagh in Tehri Garhwal District, 50 kilometres from Mussoorie, yesterday.
Tributes paid to Bhupen Hazarika
Dehradun, November 21
Members of the Asom Association, Dehradun, organised a special evening to pay tributes to the legendary Assamese singer, the Dada Saheb Phalke award winner late Bhupen Hazarika, on Sunday evening at the ONGC Officer's Club.
Faizabad university humble PU
Dehradun, November 21
Dr RML Awadh University, Faizabad, defeated Panjab University, Chandigarh, by 72 runs in a quarterfinal match of the North Zone Inter- University Cricket Tournament organised by Uttarakhand Technical University here today.
Aryan School enter final
Dehradun, November 21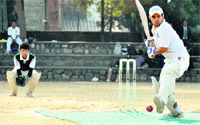 Aryan School entered the final of the Inter-council School Senior Boys' Cricket Tournament by defeating St Thomas School by 22 runs in the semifinal match played on the St Jospeh's Academy grounds here today.



A batsman in action in a match in the Inter-council Schools Senior Boys Cricket Tournament played at St Joseph's Academy in Dehradun on Monday. A Tribune photograph

Athletics meet from Nov 25
Dehradun, November 21
HNB Garhwal University, Srinagar, would organise its 37th Inter-college Athletics Meet from November 25 to 27, said organising secretary of the event, Dr Satyavrat Tyagi, while addressing the media here today.