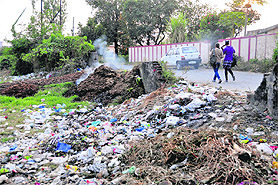 Doon Civic Blues: Ward No. 36
Proposed stadium land made dumping ground
Dehradun, November 13
How a blessing can turn into a curse is evident from poor condition of 12.5 bighas of land in Ajabpur (Ward No. 36), where a stadium was proposed to be built six year ago.
Heaps of garbage on a vacant plot in Ward No 36, Dehradun. A Tribune photograph

Nainital Diary
BJP speechless over Nishank's ouster
WITH the Assembly poll approaching, the Bharatiya Janata Party (BJP) leadership across Uttarkhand is at a loss of words over the question, "What made the BJP remove Dr Ramesh Pokhariyal Nishank as Chief Minister and bring Bhuvan Chandra Khanduri back in his place?" The BJP leadership has been skirting this issue for two months since Khanduri came back to the office of Chief Minister.
Mayor: Road carpeting to be completed by Nov 30
Dehradun November 13
Residents of Dalanwala here aired their grievances before officials of the Dehradun Municipal Corporation (DMC) and the Doon Valley Waste Management (DVWM) at a meeting called by the Dalanwala Welfare Society (DWS) in the city today.
Citizens for Green Doon celebrates tree festival
Dehradun, November 13
The volunteers of the Citizens for Green Doon celebrated the Third Annual Dehradun Tree Festival at MKP PG College here today. More than 1,200 students from 11 schools and colleges of Dehradun, including St Joseph's Academy, Touchwood School, Hillgrange School, St Thomas' College, Ann Mary School, Olympus High, Hilton School, Scholars' Home, John Martin Memorial School, ICFAI University, Law College, Gautam International School, participated in it.
Play depicts plight of rivers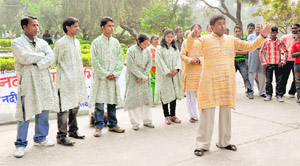 Dehradun, November 13
Members of the Nadi Bachao Abhiyan today staged a street play, "Morcha-2011" written by Dr Atul Sharma, at the Gandhi Park and MKP Girls' College to highlight the plight of the rivers of the state.
Members of the Nadi Bachao Abhiyan stage a play to highlight the plight of rivers at the Gandhi Park in Dehradun on Sunday. A Tribune photograph

Dr Gaur to be awarded
Mussoorie, November 13 Dr Uday Gaur, a botanist from a government school, Gorakhori village, 50 km from Mussoorie, will receive an award for his contribution to science and climate change during the Fourth International Science Conclave to begin at Allahabad from November 26. Dr Gaud will be receiving the award from eminent Nobel laureates from across the world for imparting science education in one of the remotest villages of the state and raising various issues concerning global warming, climate change and biodiversity besides promoting the idea of green school among the students.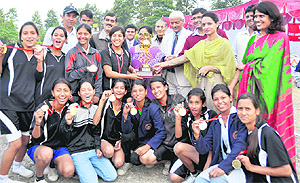 SGRR Nehru Gram, Bindal clinch titles
Dehradun, November 13
Sri Guru Ram Rai School (SGRR), Nehru Gram, and SGRR School, Bindal Bridge, today won their respective final matches in the girls and boys' categories, respectively, of the Inter-school Sahodaya Complex Handball Tournament.
Madhu Chauhan, chairperson, Dehradun Zila Panchayat, gives away the trophy to the winners of a handball tournament in Dehradun on Sunday. A Tribune photograph

Uniyal Club win volleyball tournament
Mussoorie, November 13
The Uniyal Club win the 11th Kargil Memorial Volleyball Tournament held on the Central School premises in New Tehri today.
Hostel warden held on charge of sexual exploitation
Dehradun, November 13
Shakti Singh Chauhan, a warden of Cambridge Higher Secondary School, Khurbura, was arrested by the Dehradun police on a complaint of a school student of being sexually exploited by him.
Painting contest at Kauthig
Dehradun November 13
In the ongoing annual Garhwali festival, Kauthig 2011, a painting competition was held here today. As many as 300 students from various schools of Dehradun participated in the competition and showcased their skills.