Aryan School lift cricket title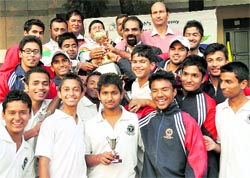 Dehradun, November 22
Aryan School defeated Carman School by six wickets in the final to win the Inter-council Schools Senior Boys' Cricket Tournament played at St Joseph's Academy here today. The Aryan team won the toss but decided to put the Carman team into batting. The Carman team scored 80 runs for the loss of nine wickets in their allotted 20 overs. Arpan Grover was the top scorer with 18 runs.


The Aryan School team that won the Inter-council Schools Senior Boys' Cricket Tournament in Dehradun on Tuesday. A Tribune photograph

Collectorate staff boycott work
Dehradun, November 22
Members of the Uttarakhand Ministerial Collectorate Employees Association working as clerks boycotted the work today.
64 yrs on, villagers yet to get road link
Mussoorie, November 22
Even after 64 years of Independence, residents of Chamsari and Khetwala villages falling under Raipur block are awaiting road connectivity to Company Garden and Mussoorie.
GND varsity thrash Garhwal team
Dehradun, November 22
Guru Nanak Dev University, Amritsar, defeated HNB Garhwal University, Srinagar, by five wickets in the quarterfinal of the North Zone Inter- University Cricket Tournament organised by Uttarakhand Technical University (UTU) here today.
Recovery of carcasses of 27 snakes from lab
Dehradun, November 22
The People for Animals has accused the state Forest Department of failing to take action against the Himalaya Institute of Medical Sciences after the recovery of carcasses of 27 snakes, including a King Cobra, from the Toxicology Lab of the institute on October 4, 2011.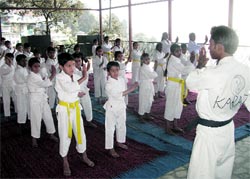 Experts teach nanbudo techniques to students
Mussoorie, November 22
General secretary of the International Nanbudo Federation (INF) Peter Turkovic was in the town today on the invitation of general secretary of the National Nanbudo Association Arvind Kotnala to teach the intricacies of the unique martial art that is gaining popularity worldwide.


Students being trained in nanbudo techniques by experts in Mussoorie on Tuesday.

20 take part in Miss Body Beautiful contest
Dehradun, November 22
A sub-contest of the Miss Uttarakhand Contest 2011, Miss Body Beautiful, was organised at a fitness centre here today. A total of 20 models from across the state participated in the event.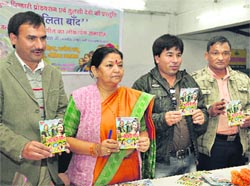 Video album 'Lalita Baand' released
Dehradun, November 22 A Garhwali-Kumaoni video album "Lalita Baand" was released by Uttarakhand Cultural Minister Vijaya Barthwal here today.




Uttarakhand Culture Minister Vijaya Barthwal releases a Garhwali-Kumaoni video album at a function in Dehradun on Tuesday. A Tribune photograph
Land conversion decision hailed
Dehradun, November 22
Members of the Sanyukt Sangharsh Smiti, Indira Market and New Market, has welcomed the Cabinet decision for the conversion of revenue land into freehold land on the basis of the year 2000.
Tennis tourney from Nov 28
Dehradun, November 22
The Uttaranchal Tennis Association will host the All-India Tennis Talent Series Tennis Tournament -2011 in the boys and girls under-12 and 14 years age group category from November 28 to December 2, 2011, at Shanti Tennis Academy, here. According to Arun Saxena, office secretary of the association, players from Delhi, Chandigarh, Uttar Pradesh, Rajasthan, Gujarat, Punjab, Haryana, Himachal Pradesh and Jammu and Kashmir are expected to take part in the tournament.
Sweaters distributed among schoolchildren
Mussoorie, November 22
Senior Congress leader and former Mandi Parishad president Upendar Thapli distributed more than 500 sweaters among poor students of Ghananand Inter-College situated at Kingcraig here today. Thapli is one of the probable candidates for the Mussoorie seat.
Workshop on biomedical waste disposal held
Dehradun, November 22
The district hospitals and government health centres were asked to put in place a Biomedical Waste Disposal Management System and get a yearly certification from the board concerned.