Fire Department faces staff, equipment shortage
Ambala, November 24
There is an urgent need to upgrade the Fire Department to avert mishaps and tragedies, the need for which has grown manifold with rapid industrialisation and construction of multi-storeyed buildings across the state.
40-50 pc engineering students not interested in studies: Survey
Karnal, November 24
Around 45 to 50 per cent students studying in a majority of engineering colleges do not attend classes on a regular basis, create indiscipline, make noises and use abusive language while walking in the corridors and verandas. Consumption of alcohol by engineering students in hostels is also a usual phenomenon.
Elderly resent delay in distribution of pension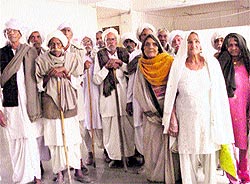 Kaithal, November 24
Delay in the distribution of old-age pension due to one or the other reason in different parts of the district has been causing widespread resentment among elderly persons.

Elderly pensioners stage protest outside the office of Deputy Commissioner in Kaithal. Photo by writer