Co-op mills to produce 37 lakh quintals of sugar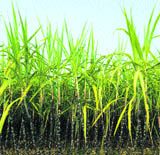 Chandigarh, November 17
The 10 co-operative sugar mills in Haryana, having an installed capacity to crush 2,37,500 quintals per day, have set the target of crushing 385 lakh metric tonnes of sugarcane with an average of 153 crushing season days. Given the average sugar recovery target of 9.6 per cent, the mills are expected to produce 37 lakh quintals of sugar.
Haryana to recruit 550 Urdu teachers
Jhajjar, November 17
The state government has decided to recruit as many as 550 Urdu teachers in government schools in order to promote Urdu language on a large scale in the state. Application in this regard would be invited soon to initiate the process of recruitment.
Dog squad to check smuggling of drugs, narcotics
Karnal, November 17
The uncanny ability of dogs to sniff out the earliest signs of danger and disease will be fully utilised by the Haryana Police by raising a specially trained "dog squad" for checking smuggling of drugs and other narcotic substances at the inter-state borders.