M A I N N E W S
Prez honours 5 armoured corps regiments
Umesh Dewan
Tribune News Service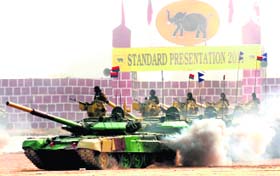 T90 tanks of an armoured regiment take part in a parade at the Black Elephant Division in Patiala on Sunday. Tribune photo: Pradeep Tewari
Patiala, November 27
The President of India, Pratibha Devi Singh Patil, presented the "Standards" to five regiments of 1 Armoured Division at an impressive ceremony held at the Black Elephant Division, here today.
The regiments that got the rare honour of "Standards" are the 5 Armoured Regiment, 6 Lancers, 70 Armoured Regiment, 73 Armoured Regiment and 74 Armoured Regiment.
An impressive ceremony witnessed the participation of as many as 132 tanks in the parade, which was applauded with a standing ovation.
The ceremony was attended by the Chief of Army Staff General VK Singh, Punjab Governor Shivraj Patil, Minister of State for External Affairs Preneet Kaur, Punjab Technical Education Minister Surjit Kumar Jiani and many senior defence officers.
In her speech, Patil congratulated the five regiments and said, "Your performance has always been exemplary. All the five regiments have put in untiring efforts in pursuit of excellence and have shown selfless devotion, professionalism and bravery in the face of adversity. The nation is proud of you and as a token of appreciation for your dedication, I take pride in presenting you with the Standards. The history of the regiments, spanning over 44 years, is replete with examples of heroism, professionalism and devotion to duty in the highest traditions of the Indian Army. The services of your regiments have always been held in high esteem."
Notably, "Standards" are considered to be a symbol of the spirit of the unit and a link with its glorious past. In India, the President's Standards are presented to the unit by the President and are a sign of recognition of the distinguished service rendered by the recipient unit.
The function commenced with the ceremonial national salute to the President, which was followed by a parade inspection. The "Standards" were then presented by Patil to the Colonel of regiments and the Commanding Officers of the Armoured regiments.
Sidelights
One of the five regiments to be awarded the "Standards" from the President, included the 73 Armoured Regiment, which has the unique distinction of having been raised on December 3, 1971 - the day the 1971 Indo-Pak war started.
Many high-profile personalities from Punjab, including CM Parkash Singh Badal and PPCC president Capt Amarinder Singh, could not attend the ceremony on account of prior engagements.