star track

Mahesh Bhatt to enter Bigg Boss...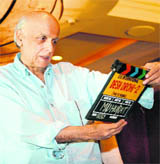 New entry:

Mahesh Bhatt
Filmmaker Mahesh Bhatt is all set to enter the Bigg Boss house for few hours to offer a lead role to adult movie star, Sunny Leone in Jism 2.
The 63-year-old director-producer says he chose to announce the film on the reality show because of its popularity among the masses. Announcing a film is as important as releasing it. Bigg Boss is a great platform and announcing a film on the show will have an astounding impact. We are in show business which is all about doing things publicly rather than in a quiet setting," Bhatt said in an interview.
The National award winning director also said that Sunny is the perfect girl to play the lead role in the sequel of 2003 movie, which was directed by his daughter, Pooja Bhatt.
"Sunny comes from a world where she had to struggle a lot. It took her lot of effort and courage to do what she does. Her loneliness, her pain, her wounds- all of it suits the narrative of the film. She embodies the fact that nobody is ideal. The film is a journey of a girl in search of her soul," he said.
The Saaransh director also said that the decision to cast Sunny was taken by Pooja, who had her eyes on the actress since 2003.
"It is Pooja's decision. She wanted to cast her in Jism but things didn't materialise. She wanted someone real.
Someone who has not yet been touched by Bollywood. Hence, Sunny has been finalised," he added. — PTI
No credit to story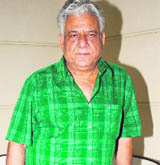 Experience counts: Om Puri
Contending that the story of a film is its real hero, veteran actor Om Puri has said that he finds it ridiculous that stars walk away with the biggest share of a project's budget.
"The share which they are given is ridiculous. If a star can make a film hit, then why is it that some of their films flop? It happens with everyone whether it is Shahrukh Khan or Salman Khan," the 61-year-old Padmashri said.
Pointing out that films are always a result of team work with everyone including directors, cameramen and technicians involved with its success, he said that recently the SRK starrer much hyped film Ra.One failed to live up to the expectations only because of a weak script.
"It had the biggest stars in it. And technically it was a superb film. But it still didn't catch the imagination of the nation. It had a weak script," he said adding that Hollywood producers always give first priority to the script. — PTI
Siddique's support system



Director's cut: Siddique
Director of one of Bollywood's most successful films, Salman Khan starrer Bodyguard, Siddique has signed his next release after a lot of proposals that came his way post the huge success. Siddique will direct a film for producers Shyam Bajaj and Narendra Bajaj. Apparently last year when Bodyguard was being shot, Bajaj who was looking for a good director asked Salman Khan about Siddique who was directing the actor then. Salman had all good things to say about Siddique even before the release of the film. Shyam Bajaj confirmed, "Yes I asked Salman about Siddique and since he was happy the way Bodyguard was shaping up he told me I should work with him."
Post the huge success of Bodyguard Siddique had offers from almost every banner possible but since this was a commitment made even before the release of Bodyguard he kept his word and told all the producers that he will first fulfill his prior commitment of making the film with Shyam Bajaj and then may consider other offers. Siddique said "It was nice of Salman to recommend me to Mr Shyam and Narendra Bajaj, I immediately agreed. I also had to keep my word and I am happy that I will be directing a film for them. There is no doubt that it will be a commercial entertainer."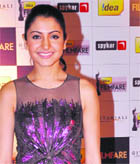 False alarm
Anushka Sharma gets upset when people write false stories about her and make her out to be a frivolous character. She says she has male friends and hangs out with them. She is also angry with all reports that call her "anorexic" when she is a perfectly healthy girl.



accusing fingers: Anushka Sharma
Big B keen to act in films again



movie time: Amitabh Bachchan
Megastar Amitabh Bachchan, who is a self-confessed workaholic, says he is itching to get back to filming and facing the camera.
"Keen now to get back to the camera and the lights and the filming ... but not satisfied with the projects offered .. soon shall," Amitabh posted on his Twitter account.
The actor last week wrapped up the shoot of Kaun Banega Crorepati 5 and ever since then has been enjoying the company of his new-born granddaughter.
Luthria undeterred by 'A' certificate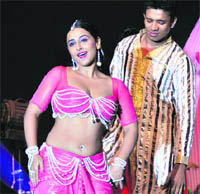 Filmmaker Milan Luthria, who has high hopes from his film The Dirty Picture, is undeterred by the censor board's decision to give it an 'A' certificate. He is more relieved that the film didn't had to undergo any major cuts.
"We don't mind that the film was given A certificate. In fact, while making this film we didn't want children to accompany their parents to see the movie. But what we are happy about is that there are no further cuts in the movie and it has been liked," Luthria said in an interview.
The film has an interesting star cast. From Vidya Balan, who will be seen shedding inhibitions to ooze oomph, to Naseeruddin Shah, plays a lecherous actor. Emraan Hashmi as an impatient lover and Tusshar Kapoor as a wicked, but innocent character. — IANS

Bold over Anushka
Ranveer Singh is in awe of Anushka Sharma. He is very fond of her and he respects her. He said, "Look at her! She is all that! She deserves the best guy in the world. She deserves Mr. Right. I am 'Mr. Right Now!'" Isn't that sweet?!


Blush man: Ranveer Singh
Tribute to legends



love for classics: Javed Akhtar
From Raj Kapoor, Nargis, Kishore Kumar to Majrooh Sultanpuri, Bimal Roy and Vijay Anand script writer-lyricist Javed Akhtar is set to tell all about 13 luminaries of Bollywood's golden era, in a new TV show called Classic Legends.
A guided biography of legends who gave the Hindi film industry some of its most iconic movies and music, the show will see Akhtar taking viewers on a journey through the success stories of these stars. The veteran writer is upbeat about his new role on TV.
"These are the people whom I admired when I was in school and college. And when you idolise someone, you want to find out more about those people. So I used to do just that as a young fan," Akhtar said at a press conference.
"As it is, I like talking to people about people, and here, for this show, I was being paid to do that. What better opportunity could I get?" he quipped.
Other icons whose life story will be told through Classic Legends include R.D. Burman, Ashok Kumar, Sahir Ludhiyanvi, Mehboob Khan, Madhubala, Guru Dutt and Shammi Kapoor.
The 66-year-old writer, who has been in the industry for around four decades, hopes that looking back at the life story of legendary people gives optimism to general public, especially the youth who are hardly interested in old movies.
"Indian cinema has a wonderful heritage. It would be really sad if people forget it. And these are stories of 13 people who started from almost nothing and gained so much success through the years," Akhtar said.
"So when you go deep into their lives, they give so much hope and optimism in life and convey that anything can be achieved in life. You can reach from zero to 100 provided you have the will and persistence," he added.
Akhtar, father of new age filmmakers Farhan and Zoya, feels people must not forget that they will be remembered for their success only till their success lasts, what will keep them alive is their work like the 13 legends whose lives he would document.
"The people who are on the show were successful, no doubt. But they are still remembered because they brought something new and trendsetting. The show goes on air in December. — IANS
Shiney to shine again
After wading through troubled times, actor Shiney Ahuja is back in fray with his latest film Ghost and says that his new film has some similarity with his horror-thriller Bhool Bhulaiyaa.
"The story of Ghost is totally different from Bhool Bhulaiyaa but in a way it is a similar film. Although it's a horror film, it's a very good love story. Bhool Bhulaiyaa had a thriller element but it was essentially a love story. Similarly, this is a very nice love story," Shiney said in an interview.
Shiney's career hit a rough patch when in 2009 his maid accused him of raping her. On March 30, 2011, Shiney was sentenced to seven years in prison. He is currently out on bail.
Now the 37-year-old has his hopes pinned on Ghost to resurrect his career. — IANS
Sameera cribs about crazy working hours



Busy bee: Sameera Reddy
For those who thought working in Bollywood is a cake walk Sameera Reddy has something else to say.
"The film industry works any day of the year crazy hours and Sundays don't count! And you guys think we have it easy," Sameera posted on Twitter.
Sameera is balancing her work, both in south and Bollywood. Her last release was Prabhu Deva's Vedi in Tamil, and is currently doing the lead role and an item number in Tezz for which she has reportedly lost seven kilos. — IANS
Twilight inspires…



comparing notes: Robert Pattinson
One of the most common concepts in pop culture is that of a human girl falling in love with a vampire. But actor Robert Pattinson has dismissed Vampire TV shows as rip offs of Twilight.
The Twilight star has insisted that TV shows like True Blood and The Vampire Diaries have been inspired by the Twilight series and that everyone is trying to cash in on the buzz that the movie franchise has been able to create.
"It's like that Coke versus Pepsi thing, and how Coke just said 'There's a reason everyone compares themselves to us,'" he said in an interview.
The third film in the Twilight Saga Breaking Dawn Part 1 opened last week and has already grossed more than $ 222 million. — ANI