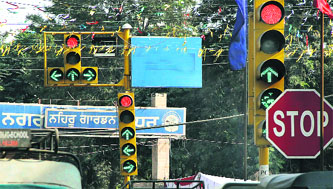 USE YOUR OWN DISCRETION, PLEASE: As both the red and green lights remain on at a same point of time, the faulty traffic lights at Company Bagh Chowk have left it on commuters to make their own judgement. Tribune photo: Sarabjit Singh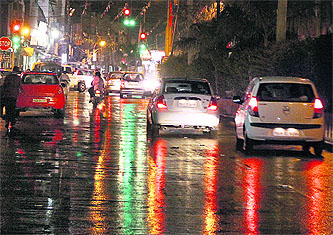 Ending a prolonged dry spell, showers lashed Jalandhar on Tuesday evening, bringing the temperature down. Tribune photo: Sarabjit Singh

PAP Chowk turning into death trap for motorists
Jalandhar, December 6
One of the most congested and polluted areas of the city - PAP Chowk - has claimed three lives in a week. Courtesy the district administration, as it failed to bring down the number of accidents on one of the earmarked "black spots" of the city.
Lax MC lets grass grow under its feet
Jalandhar, December 6
It's a sad tale of 120 kanal and 19 marla greenbelt of the MC being rendered useless in the heart of the city for over two years. Chances are bleak of any headway in the much-publicised Rs 3.27 crore renovation project of Nehru Garden, the foundation stone of which was laid by the Chief Minister in September 2009.
Official speak
Residents, MC making trees die slow death
Jalandhar, December 6
It is not only residents, but also the Horticulture Department of the Municipal Corporation (MC) that have been violating the Indian Forest Act blatantly by harming trees in the city in some way or another.
Enable NRIs to cast vote in their counrties, UK MP to EC
Jalandhar, December 6
Demanding that the Election Commission (EC) of India should make arrangements for NRIs to cast vote at the Indian High Commission offices overseas, UK parliamentarian Virendra Sharma said this would encourage the NRIs to become voters and strengthen their relationship with their native country.
Sambar strays into Shitla Devi Temple
Another flees from rubber factory by jumping over wall in Soochi Pind
Jalandhar, December 6
A female sambar strayed into Shitla Devi Temple in Mai Heeran Gate early this morning. As the sambar entered the temple premises, pandits and devotees left their prayers and rushed to have a glimpse of the wild beast.
Woman, girl hurt in accident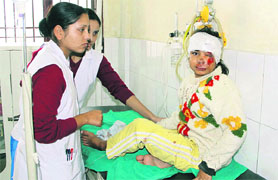 Jalandhar, December 6
An eight-year-old girl was severally injured in a road accident when a speeding car hit a scooter from the rear near Model House this afternoon. The girl's aunt also sustained a fracture in her right leg. The girl, identified as Salma, on her way to a market along with her aunt, Amrit Kaur, and uncle, Jaspal Singh, both residents of Deol Nagar, on a scooter.
Eight-year-old Salma, who was injured in a road accident, undergoes treatment at the Civil Hospital in Jalandhar on Tuesday. Photo: Sarabjit Singh

UTI holds camp
Jalandhar, December 6
To make public aware of its schemes and plans of mutual funds, the Unit Trust of India (UTI) held a camp for its agents and investors here today. The camp was a part of the nationwide campaign launched by the UTI.
Mentally challenged ends life
Jalandhar, December 6
A mentally challenged person committed suicide by hanging himself from a tree at Beant Singh Park today.