'Over-qualified' but jobs elude these linemen
Have qualifications much higher than what is required for the job of a lineman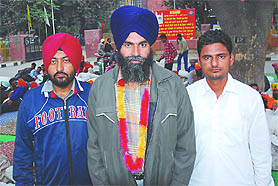 Bathinda, December 8
For many they are just unemployed linemen, having matriculation qualification with two years' ITI (Electrical wireman) certificate course along with two years' apprenticeship, but it is not true completely as many of them possess higher academic qualifications, like B.A, MA, B.Ed., and PGDCA (Information Technology).
(From left) Mandeep Singh, Amritpal Singh and Ashok Kumar. Tribune photo: Pawan Sharma

Tehsildar, poll staff pen-down strike on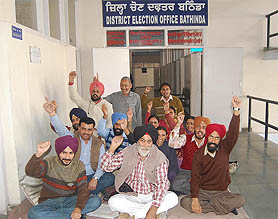 To continue their agitation until their demands are accepted by state govt
Bathinda, December 8
The tehsildar (Election), posted at the District Election Office here, has been observing the pen down strike since yesterday as the entire staff (regular as well as contractual) of his office is also observing pen down strike till tomorrow in support of their demands.
Staff of the District Election Office stage a dharna outside their office in the Mini-secretariat on Thursday. A Tribune photo

Nambardars await hiked honorarium for 2 months
Bathinda, December 8
Discontentment prevails among thousands of nambardars as despite the hike in their monthly honorarium in the last week of September this year and implemented from October 1, they have not been paid the increased honorarium so far.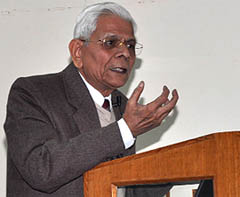 'Those who talk about human rights do not seem to believe in them'
Central University holds a lecture commemorating Human Rights Day
Bathinda, December 8
The Central University of Punjab (CUP) organised a lecture commemorating the Human Rights Day. A special lecture was organised to commemorate declaration of the Universal Human Rights on December 10 1948.
Prof Harish Puri delivers a lecture at Central University on Thursday. A Tribune photo
Draughtsmen continue their mass casual leave
To gherao Cabinet sub-committee member Tikshan Sood's residence today
Bathinda, December 8
Under the banner of the Punjab Draughtsmen Association, the members of the Bathinda unit (Bathinda and Mansa) of the association, led by president of the unit Baljit Singh Virk, staged a dharna inside the Mini-secretariat here today.
7654 United Teachers Front to hold state-level dharna
Protest to be held near Rose Garden on Dec 10
Bathinda, December 8
The 7654 United Teachers Front would hold a state level dharna on December 10 at Bathinda near the Rose Garden Chowk.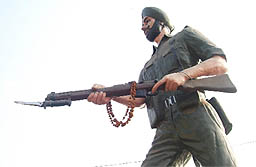 Tribune impact
Bayonet 'restored' to statue at Fauji Chowk
Bathinda, December 8
The bayonet that went missing from the gun of a statue of the Victoria Cross winner Jamadar (naib subedar) Nand Singh at the Fauji Chowk, has been 'restored'.
The gun of the martyr's statue at Fauji Chowk in Bathinda gets a new bayonet. A Tribune photo
Crime briefs
One booked for murder
A resident of Khohar Kalan has been booked by the police for inflicting fatal injuries to a resident of Gatwali village. In her complaint to the police, Chhinder Kaur, wife of deceased Pal Singh, alleged that Jagdev Singh hit her husband with an iron rod.
Virasat Mela postponed
Bathinda, December 8
The Virasat Mela, held every year in the city, has been postponed owing to the death of the son of the main sponsor of the event.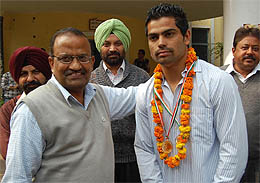 Athlete felicitated
Bathinda, December 8
Gurlal Singh, a student of BA final year of Government Rajindra College, was felicitated today for being declared bets athlete during the inter-college athletic meet held at Punjabi University Patiala from December 3 to December 5 wherein 71 colleges under varsity participated.
Gurlal Singh, a student of Government Rajindra College, being felicitated for winning the best athlete award of the Punjabi University, Patiala. A Tribune photograph
Mock test for 10th class on Jan 8 and Feb 12
Bathinda, December 8
The Harbhajan Institute of Competitions is going to organise a mock test for class tenth on January 8 and February 12.