M A I N N E W S
Industrial output slumps 5.1%, pressure mounts on RBI
Fall 10 times greater than economists had forecast
New Delhi, December 12
The country's industrial output fell in October for the first time in more than two years as capital goods investment slumped, ramping up pressure on the RBI to ease monetary or liquidity conditions, possibly as soon as Friday.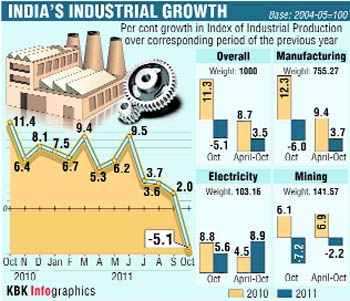 Production at factories, mines and utilities plunged 5.1 per cent from a year earlier, far worse than expected, another blow for the embattled government of Prime Minister Manmohan Singh that is struggling to combat a slide in the economy.
"It's a lot worse than we expected. The nearly two years of monetary tightening is clearly being felt," said Tim Condon, head of Asian economic research at ING in Singapore.
"While India may not be a manufacturing-driven economy, more data prints such as this would be a worrying sign. While we expect a status quo in terms of interest rates from the RBI (Reserve Bank of India) this week, the pressure is clearly building on them to start easing," he said.
The fall in industrial output was 10 times greater than economists had forecast in a Reuters poll and marked the steepest drop since March 2009.
The country's economy is contending with 13 rate rises since early 2010, a policy tightening that has hit growth but done little to counter near double-digit inflation.
On Friday, the Finance Ministry slashed its growth forecast for the fiscal year ending March to between 7.25 and 7.75 per cent from 9 per cent estimated in February.
Just last week, Manmohan Singh had to make an embarrassing retreat from opening up the retail sector to allow foreign players like WalMart into the supermarket industry.
The government, however, has little fiscal room for manoeuvring as its deficit outlook has worsened. The RBI has raised its key lending rate by a total of 375 basis points since March 2010 to combat inflation, which has stayed above 9 per cent for nearly a year.
But with data on Wednesday expected to show inflation remaining above 9 per cent, the RBI is not expected to begin cutting interest rates at its mid-quarter review on Friday.
Instead, some watchers expect it to lower the cash reserve ratio, the share of deposits banks must keep with the central bank, in order to ease tight market liquidity, or pledge more support for short-term funding markets.
Still, Wednesday's wholesale prices data is expected to show that inflation is heading down. A Reuters poll suggests it fell in November to 9.04 per cent from 9.73 per cent in October, as food prices fell to their lowest in nearly three-and-a-half years.
The government has limited room to support the economy as its fiscal deficit is forecast to reach 5.5 per cent of the GDP till March 2012, 1 percentage point above the target.
New Delhi has already unveiled Rs 528 billion extra borrowing for the remainder of this year. — Reuters
Rupee hits all-time low
Rupee slid to a record low of 52.77 on Monday as signs of a sharp slowdown in Asia's third-largest economy prompted investors to buy dollars. Traders said possible buying by local oil importers, the biggest buyers of dollars in the local forex market, also pressured the currency.