Rs 87 cr for roads, bridges
Dehradun, December 15
The National Bank for Agriculture and Rural Development (NABARD) has sanctioned a loan of Rs 87.13 crore for the construction and renovation of 98 rural roads and seven bridge projects and a loan of Rs 37.40 crore for the construction and renovation of 81 minor irrigation projects under the Rural Infrastructure Development Fund (RIDF)- XVII for this financial year.
Virasat to begin on Dec 19
Dehradun, December 15
The popular Afro-Asian Art and Craft Cultural extravaganza, "Virasat", will begin on December 19 at the Ambedkar Stadium here.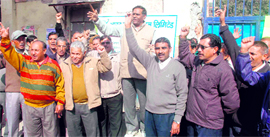 BSNL staff boycott work
Dehradun, December 15
As part of a nationwide strike, BSNL employees in Dehradun today boycotted work.




Workers of the BSNL hold a protest in Dehradun on Thursday. A Tribune photograph

Study lays stress on mineral conservation
Dehradun, December 15
Dehradun-based Indian Council of Forestry Research and Education (ICFRE) has submitted the macro Environment Impact Assessment (EIA) study report conducted in the mine areas in Chitradurga and Tumkur districts of Karnataka.
Homeless stage protest
Dehradun, December 15
Hundreds of homeless persons under the banner of Beghar Andolan Samiti staged a protest in front of the state Assembly to press for their demands for houses to all the homeless of the state.
Poor students given gifts in Xmas function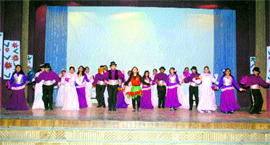 Dehradun, December 15
The Christmas spirit dawned early this year as St Joseph's Academy organised a gala festive function on Wednesday in which children from several schools presented scintillating songs and dances.



Students of St Josheph's Academy perform at Christmas celebrations in Dehradun on Thursday. A Tribune photograph

School celebrates Xmas and Grandparents' Day
Dehradun, December 15
Christmas and Grandparents' Day was celebrated at Aryan School, Mussoorie diversion road, with great pomp and show. The function started with pin board and Christmas tree decoration competition.
Papers on medicine, surgery presented
Dehradun, December 15
On the second day of the international symposium on recent advances in clinical disorders under way at the Sri Guru Ram Rai Institute (SGRR) of Medical and Health Sciences, papers on advances made in the area of paediatrics, medicine, surgery and gynaecology were presented.
Workshop for artisans
Dehradun, December 15
In order to help the artisans access better marketing facilities by improving the quality of their products, the Export Promotion Council for Handicrafts (EPCH) yesterday organised a workshop on quality compliance.
Wills Club, Akranta Club storm into semis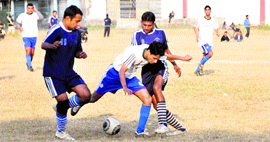 Dehradun, December 15
The Wills Youth Club and the Akranta Club stormed into the semifinal of the Abhishek Dabral Memorial Football Tournament being played at Surver Stadium here.



A match in the Abhishek Dabral Memorial Football Tournament being played at Survey Stadium in Dehradun on Thursday. A Tribune photograph

Doon team selected for volleyball c'ship
Dehradun, Decemer 14
Dehradun team of boys and girls have been selected to participate in the Uttarakhand Youth Volleyball Championship scheduled to be held at Almora from December 20 to 22 by the Uttarakhand Volleyball Association during the trails held at Parade Ground here today.
Three TT players honoured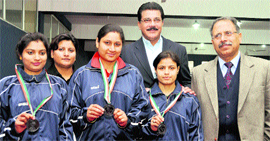 Dehradun, December 15
Swati, Bhawna and Vinita, all three women table tennis players, were felicitated for their performance at the 37th National Sports Festival held at Ranchi, Jharkhand, here today.



Table tennis players being felicitated at a function in Dehradun on Thursday. A Tribune photograph

Tiny tots take part in races
Dehradun, December 15
Sun Valley School organised Fun Race programme on school campus here today. Students below class II took part in the races. Chief guest Uma Sen, an educationist, appreciated the activities undertaken by the school.
Sai Institute beat Amba XI
Dehradun, December 15
The Sai Institute Cricket team defeated the Amba XI by seven wickets in a match in the Twenty20 Beehive Challengers Cup Cricket Tournament played at Matawala Bagh Ground here today.