Strict action assured in cases of traffic violations
Haridwar, December 9
Day-to-day traffic jams, violation of traffic rules and haphazard parking will be dealt strictly by the city traffic police. This was stated by Superintendent of City Police Kiran Lal Shaw here today while on a field inspection of the city's busiest intersections in Ranipur.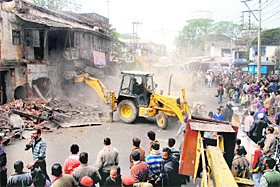 Building with 5 shops demolished
Dehradun, December 9
A dilapidated building situated near Tehsil Chowk, which also houses five shops, was demolished by the Dehradun Municipal Corporation (DMC) today to widen a roundabout under the Jawahar Lal Nehru Urban Renewal Scheme.
A dilapidated building being razed by the Dehradun Municipal Corporation at Tehsil Chowk in Dehradun on Friday. A Tribune photograph

Opportunities in herbal sector discussed
Dehradun, December 9
A round-table conference on the herbal sector was jointly organised by Deutsche Gesellschaft für Internationale Zusammenarbeit (GIZ) and the Uttarakhand Forest Development Corporation at Doon University here today.
New routes for holding protests
Dehradun, December 9
Deputy Inspector General Sanjay Gunjiyal has provided new routes for holding protests and demonstration near the VIP area at Cantonment Road and directed SSP GN Goswami to follow the new pattern for the convenience of the VIP-movement and people living in the area.
DMC Foundation Day
Chamoli lists Doon projects
Dehradun, December 9
On the occasion of Foundation Day of the Dehradun Municipal Corporation (DMC) today, Mayor Vinod Chamoli remembered the leaders of the state and the nation whose statues had been in a dilapidated condition. Chamoli said a number of statues would be installed across the city at a cost of Rs 10 lakh.
Institute of National Integration to be shifted to IMA
Dehradun, December 9
The Pune-based Institute of National Integration, which trains teachers of the armed forces on matters of religion, will be shifted to the Indian Military Academy, Dehradun, shortly.
Tributes paid to martyrs at war memorial
Dehradun, December 9
A remembrance ceremony was organised at the war memorial of the Indian Military Academy(IMA) here today to pay tributes to the brave alumni of the IMA, who sacrificed their lives in keeping with the tradition of patriotism and sacrifice.
Multi-activity display at IMA
Dehradun, December 9
A day ahead of the Spring Term 2011 Passing-Out Parade of the Indian Military Academy, a multi-activity display was organised at the Polo Ground of the academy today.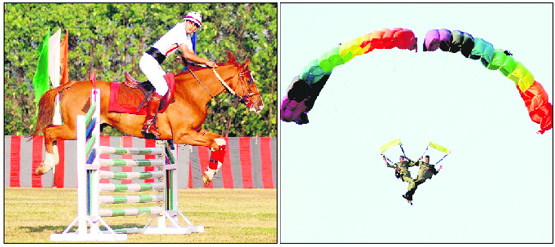 A Gentleman Cadet shows his equestrian skills; and (right) two para troopers landing at the Indian Military Academy in Dehradun on Friday. Tribune photographs

Representatives now free to take oath in Sanskrit
Dehradun, December 9
Now even the elected representatives of local bodies would have the option to take their oath in Sanskrit language, which has been accorded the status of state language in the state.
Five killed, 29 hurt as bus falls into gorge
Dehradun, December 9
Five persons were killed while 29 others sustained injuries when a bus fell into a gorge at Srinagar in Pauri Garhwal district yesterday.
Dr Trehan to hold medical camp today
Dehradun, December 9
The renowned cardiac surgeon and CEO of Medanta, Dr Naresh Trehan, and his team of experts will conduct a free medical camp tomorrow at the Combined Medical Institute (CMI) as part of two-day Uttaracon-2011 celebrations.
UCOST reviews projects
Dehradun, December 9
The Uttarakhand Council of Science and Technology (UCOST), Dehradun, today held a meeting to review its projects. Its Public Relations Officer, Dr DP Uniyal, disclosed that the three-member high-level committee set up by the council reviewed the projects linked to medical sciences.