Once hooked to drugs, addicts take up cudgels against the menace
Doctors and others join hands with them, hold camps to help addicts kick the habit and sensitise others against treading on path to self-destruction
Minakshi Singh
Tribune News Service
Bathinda, December 17
The 'high,' Som felt after buying fruits for his kids defeated the 'kick' he used to get after taking drugs. Som has seen his family suffering from his habit. Now, he has decided to shun the self-destructive path.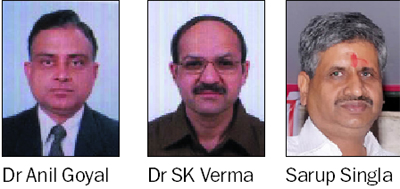 Years back, Sumit somewhat also felt similarly so he thought that no one could be better than him in a position to explain as to what he experienced was bad and how to give up the 'suicidal' mode.
Sumit is not alone. There are many like him who left the self-destructive path and turned anti-drug crusaders. More importantly, people seeing him and others taking the cudgel to fight against the menace of drug-addition followed him. Useless to say, drug abuse, which means compulsive use of a substance despite its negative or dangerous effects, has reached an alarming proportion in Punjab particularly in the rural areas of the Malwa belt.
Considering the gravity of the problem, in a collective effort, volunteers, some of whom have been addicts, have initiated war against drugs. They have been holding camps with the help of the volunteer doctors. The rehabilitation process includes identifying the addicts, motivation and detoxification. Later, follow-up on a weekly and fortnightly basis besides family counselling is done.
"There is never a wrong time to do the right thing. I fell prey to drugs when I was a teenager. Strong determination helped me get rid of addiction. I am making all-out efforts by holding camps with the help of the doctors to de-addict those who are in the murderous clutches of drug abuse and prevent future users from becoming addicts. Science and art has been combined to fight the menace. I believe social support system plays a vital role in this regard," said Sumit.
"I was in my teens when drugs drew me into the vortex out of the thrill and curiosity. Simple experimentation soon turned into addiction and it led me towards destruction. I joined a drug de-addiction camp some time back. More than the detoxification techniques, my strong will power made me overcome addiction. We will be holding camps in the rural areas soon and the war against drug abuse would continue. I appeal to the youth not to try it even once as the 'first drink does the damage'," said Tarun Mittal, another volunteer.
During the camps organised so far, around 700 drug abusers have been identified. The respondents blame it on easy accessibility at lower prices, addiction in family history, social and cultural acceptance, peer pressure and mental stress.
"We arrest the drug traffickers but the accused are soon released on bail and get back to the illegal business. Strict laws are needed to check the menace," said a police official pleading anonymity.
"I am the only bread winner in my family. I cry often as I made my family suffer due to drug addiction. However, it is better late than never. It has been two-three days since I joined the camp and I have not even touched the drugs. Instead of spending money on drugs, I bought fruits for my kids yesterday. The smiling faces of my kids gave me a great sense of satisfaction," said Som Singh.
"A drug rehailitation programme can go a long way provided the addicts realise that they are not alone in their struggle. The first step towards quitting drug abuse is detoxification. However, psychiatry is more important as in many instances underlying psychological issues drive people to addiction. Besides, we cover the medicinal part in the camps wherein we provide the patients with free of cost medicines. Moreover, law enforcement can make a big difference as in the absence of supply, the addicts would be compelled to join the rehabilitation centres," said Dr Anil Goyal, MD, consultant psychiatrist, Bathinda.
"One's recovery is not only determined by the nature of drug rehabilitation programme, but the amount of efforts put into applying what is learnt during the treatment and sticking to it helps patients lead a successful and productive life. We are focused on the idea that even after the availability of drugs, people reject it," said Dr SK Verma, MD, psychiatrist.
"To motivate the addicts, I went to the Amarpura Basti and promised awards besides trying to provide jobs to those who give up addiction completely," said Sarup Chand Singla, area in-charge of the SAD for the Bathinda urban assembly constituency.
The next de-addiction camps would be organised from December 4-13 at New Khalsa Public School, Amarpura Basti, and from January 8-17 at Gurdwara Sahib Street no. 3 (Amarpura Basti).