Services of 50 GVK EMRI striking field employees terminated
Dehradun, December 22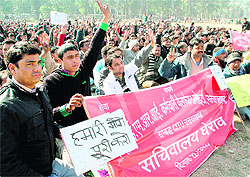 The proposed march by the striking field employees of GVK Emergency Management and Research Institute (EMRI) 108 emergency ambulance services to the secretariat was abandoned midway due to the security arrangements at the parade ground for Congress leader Rahul Gandhi's rally slated for tomorrow.



Striking employees of EMRI emergency services hold a demonstration in Dehradun on Thursday. A Tribune photograph

Doon Hospital anticipates renewal of ISO certificate
Dehradun, December 22
With the issues of segregation of biomedical waste and curbing hospital infection still posing problems, the Doon Hospital authorities have begun filling gaps in anticipation of the renewal of the ISO certificate in 2012.
Virasat
Students union seeks space for local artistes
Dehradun, December 22
The members of students union of Hemwati Nandan Bahuguna (HNB) Garhwal Central University affiliated to the ABVP have threatened to launch a stir against the organisers of Virasat if they fail to give space to local artistes.
State health services in tatters: Cong MLA
Dehradun, December 22
Uttarakhand Congress MLA and former minister Amrita Rawat has accused the state BJP government of paying least attention towards the betterment of health services.
Ideas exchanged with Chinese team on forestry sciences
Dehradun , December 22
A high-level six-member delegation, headed by the president, Chinese Academy of Forestry, Beijing, visited the Indian Council of Forestry Research and Education (ICFRE), Dehradun, today.
ITM beat Doon Tuskers by 2 wickets
Dehradun, December 22
The Institute of Technology and Management (ITM) cricket team defeated Doon Tuskers Cricket Club by two wickets in a match of the Twenty20 Beehive Challengers Cup Cricket Tournament played at the Matawala Bagh ground here today.
25 animal welfare organisations felicitated
Dehradun, December 22
The Sai Society for Educational and Welfare Works for Animal (SSEWA), in collaboration with Siddharth Law College, Dehradun, organised an animal welfare felicitation programme, 2011, in which 25 animal welfare organisations (AWOs) and individuals across the state providing various voluntary services in the field of animal welfare were felicitated by Major-General Dr RM Kharb (Retd), Chairman of the Animal Welfare Board of India (AWBI), and Mayor Dehradun Vinod Chamoli. The awardees were presented certificates and shawls.
ART Plus centre for AIDS patients
Dehradun, December 22
The Anti-Retroviral Treatment (ART) centre at Doon Hospital has now been designated as ART Plus centre for starting second-line treatment for AIDS patients by National Aids Control Organisation (NACO), New Delhi.
3 caught breaking ATM
Dehradun, December 22
Three youngsters, Saurab Abrol, Harshit Verma and Kuldeep Singh, were nabbed while they were attempting to break open an ATM of the SBI at Dharampur here on Tuesday night.
Alva spends day with poor children
Dehradun, December 22
Uttarakhand Governor and chairperson of the State Child Welfare Council Margaret Alva today spent the day with more than 300 underprivileged children at the Raj Bhawan here. Her spouse, Niranjan Alva, was also with her.
Annual function at Central School
Dehradun, December 22 An annual function of Central School, Indian Institute of Petroleum (IIP), Dehradun, took place today. Chief guest MO Garg, Director, IIP, asked the children to excel in academics and sports. He asked them to become excellent citizens and serve the society. He also praised teachers at the IIP for providing quality education to the children.