It's time for parties to open their cards
Deepkamal Kaur
Tribune News Service
Jalandhar, December 25
With just 35 days left for the Assembly polls, politics has become the most debated about issue in the district. Not just the workers of various political parties, even the electorates are all eagerly awaiting announcement of the names of candidates from various parties from the nine Assembly constituencies.
Till date, the names of just two Akali candidates out of six seats have been officially announced - in Shahkot and Nakodar. Rest all political parties are yet to open their cards.


| | |
| --- | --- |
| Gurpartap Singh Wadala | Amarjit Singh Samra |
It is Wadala junior vs Samra at Nakodar: It is for his son Gurpartap Singh Wadala that the octogenarian SGPC member and former MLA Kuldip Singh Wadala has got ticket from Nakodar. Kuldip S. Wadala had himself unsuccessfully fought the seat against the sitting Congress MLA Amarjit Singh Samra in the last Assembly polls. Forty-eight year old Gurpartap is his third of the four sons. The Wadalas have already been preparing for a rally in their native Sarin village tomorrow which is to be addressed by Chief Minister Parkash Singh Badal. The candidature of the only Congress sitting MLA and former minister Amarjit Singh Samra is also almost undisputed.


| | |
| --- | --- |
| KD Bhandari | Avtar Henry |
Most likely Bhandari vs Henry at Jalandhar North: In Jalandhar North, the last year contestants are likely to pitch in from the same poll battlefield. A BJP seat, sitting MLA and Chief Parliamentary Secretary KD Bhandari is likely to re-contest from here. Bhandari has been banking on being able to get three flyovers constructed in his tenure. Former Congress minister Avtar Henry too has been gearing up to trounce his rival this time.

Cong yet to open its cards in Shahkot: After the old Lohian constituency was dropped, Revenue Minister Ajit Singh Kohar is set to fight from Shahkot for the Akalis. His name has been officially announced by the party two days back. Congress is yet to open its cards even as the names of Brij Bhupinder Lally and CD Kamboj have been doing rounds.
Most unclear position at Jalandhar Cantt: The most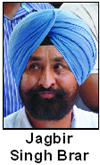 unclear picture of the political parties is at Jalandhar cantonment. The constituency has been without an MLA for the past more than a year after Akali MLA Jagbir Brar had quit party to join Manpreet Badal's PPP. The area residents received a jolt again a few days back after Brar again defected towards Congress in the presence of Capt Amarinder Singh.
Dissidence within Congress has been open ever since especially with former Congress minister Gurkanwal Kaur showing stiff opposition to Brar's candidature. While it yet is not certain as to who would get the Congress ticket, the PPP is also now on a lookout for its fresh candidate. Manpreet has announced to hold a rally in the constituency on January 2 but things would perhaps be clear prior to that. Phagwara sugarmill owner Jarnail Singh Wahid is perhaps the most likely candidate for the SAD ticket.
Kalia frontrunner from Jalandhar Central: Again a BJP seat, former Minister and sitting MLA Manoranjan Kalia seems to be the frontrunner from this seat. Mayor Rakesh Rathour had also staked his claim from this seat as well as Jalandhar North. The situation in the Congress camp is the most unclear. While earlier the name of hotelier Gautam Kapoor had been doing the rounds from the Congress side, now it is businessman Sheetal Vij who has emerged as the front-runner. Former MLA Raj Kumar Gupta, councillors Rajinder Beri and Jagdish Raja have also claimed tickets.

MP's wife trying from Jalandhar West: Congress MP from Jalandhar Mohinder Singh Kaypee is trying to field his wife Suman Kaypee from his family's old turf. It was his slain father Darshan Singh Kaypee and then MS Kaypee himself who have been contesting from this seat. MS Kaypee lost in last tenure against BJP's Bhagat Chunni Lal and then successfully contested Parliamentary polls. Instead of Deputy Speaker Bhagat Chunni Lal, it was his son Mahinder Bhagat who was more actively seen in political circles. Bhagats are facing contest from Vijay Sampla and Bhagat Manohar Lal from within the party.
Situation vague in Adampur (SC) too: As the sitting Akali MLA Sarabjit Makkar shifted to Kapurthala with the constituency getting declared reserved, it is Pawan Tinu who emerged as the front runner for the party. Now with dissidence from within the Akalis, the name of Gian Chand is being propagated by the leaders of the Sant Samaj. For the Congress, the newly-elected Punjab Youth Congress chief and son of former minister Ch Santokh Singh Vikramjit Chaudhary is the front runner. The name of dalit leader Satnam Singh Kainth is also doing rounds.
Akalis may change ticket from Kartarpur (SC): Akalis perhaps are thinking of changing the ticket of their sitting MLA and CPM Avinash Chander. The name of sitting MLA of Koom Kalan, Inderiqbal Singh Atwal, is also being discussed as an option. Former Local Bodies Minister Ch Jagjit Singh may again be given ticket from the Congress.
Change also likely in Phillaur (SC): There are talks of former Deputy Speaker Parliament Charanjit Singh Atwal returning to his seat. There are plans to field the sitting Akali MLA Sarwan Singh Phillaur from the reserved Banga seat instead of Phillaur so as to displace Ch Mohan Lal from there. Former MP Ch Santokh Singh is trying for a ticket of the Congress from Phillaur.
Happiness factor
Even as political leaders claim that the Election Commission had given them the shortest time to prepare for the polls (just 35 days instead of 45 in the normal course), they are happy about the same. "Less time would mean less expenditure. Sometimes when more time is given, the enthusiasm comes down among voters after a climax", said Congress councillor Jagdish Raja, who too is in fray for ticket. Less time also means that the parties would have to announce tickets in just five to six days, the leaders say.