Technical snag hits power plants
Several areas in Punjab plunge into darkness
Umesh Dewan/TNS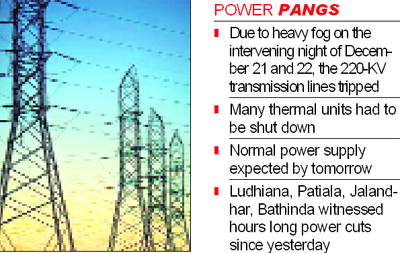 Patiala, December 23
With several units of the thermal plants in Bathinda and Ropar being shut down on account of tripping in transmission lines, some parts of the state plunged into darkness yesterday.
Sources said on account of heavy fog on the intervening night of December 21 and 22, the 220-KV transmission lines tripped. Because of the cascading effect on the other transmission lines, subsequently many thermal units had to be shut down by the authorities of the power corporation. Punjab State Transmission Corporation (PSTCL) Director Transmission Ravinder Singh said tripping of transmission lines on account of fog was a regular feature during winters.
The total power demand of the state is about 4,000 MW but because of the temporary closure of the thermal units, the gap between demand and supply has touched the figure of 1,100 MW.
Because of the problem, many areas of Punjab, including Ludhiana, Patiala, Jalandhar, Bathinda and some other parts, witnessed hours long power cuts since yesterday. The agriculture sector was also affected with the unexpected power cuts.
In Ludhiana, power regulatory measures were to be imposed and now three-day weekly off has been enforced on the category three arc/induction furnaces till further orders.
Senior functionaries of the Punjab State Power Corporation Limited (PSPCL) have assured that by tomorrow, the power crisis would end and all units of the thermal plants would become operational.
Talking to TNS, PSPCL Director Distribution Arun Verma said at 3.42 am on December 22, on account of heavy fog, there was tripping at the 220-KV transmission lines. "Subsequently, four units of the Lehra Mohabat Thermal Power Plant, (two units of 250 MW and two of 210 MW each) had to be shut down. Even two units of 110 MW each of Guru Nanak Dev Thermal Plant Bathinda had to be closed temporarily."
Officials of the PSPCL further said two units of the Lehra Mohabat became operational on December 22 but two were still closed. "One unit at Lehra Mohabat would be functional by today evening and the other one will be operational tomorrow. Three units of the Ropar Thermal Plant which were closed would resume working by today evening. Our engineers and other staff members are on work and hopefully all thermal units would be operation soon," Verma said.