Staff called from other states to man 108 services
Dehradun, December 28
Emergency medical technicians (EMTs) of the GVK-Emergency Management Research Institute (EMRI) 108 emergency ambulance services from the neighbouring states of Himachal Pradesh, Chhattisgarh and Madhya Pradesh will arrive in Dehradun tomorrow to man emergency ambulances services that have been paralysed by the indefinite stir launched by the field employees.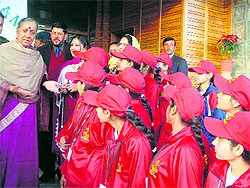 25 children from Poonch meet Governor
Dehradun, December 28
A group of 25 young school students from Poonch district of Jammu and Kashmir met Uttarakhand Governor Margaret Alva at the Raj Bhavan today.




Uttarakhand Governor Margaret Alva meets students from Poonch, Jammu and Kashmir, at the Raj Bhavan in Dehradun on Wednesday.

Delhi team win cricket tournament
Dehradun, December 28
The Delhi head office cricket team won the North Zone Provident Fund Employees' Cricket Tournament by defeating the Delhi regional office team by 24 runs in the final match here today.
Chakrata road opened to traffic
Dehradun, December 28
On the third day of the second phase of the demolition drive today, the Chakrata road was opened to traffic.
BJP files code violation complaints
Dehradun, December 28
Describing it as the violation of the model code of conduct, the state BJP today lodged complaints at the Chief Electoral Officer against the advertisements issued by the agriculture ministry with regard to the steps taken for the state farmers and regarding the distribution of blankets by Congress leaders at a function in Dehradun.
College Fest
Assamese child artistes stage "Gati"
Dehradun, December 28
Odissi, Bharatnatyam and Maharashtrian semi-classical and folk dances and a play, "Gati", by Assamese child artistes marked the second day of Universal Rang Mahotsav, a festival and contest of dances of various states, at MKP-PG College today.
Experts lay stress on industrial safety
Haridwar, December 28
A one-day workshop on "Industrial Safety Training Programme" was organised at SIDCUL here today where experts dwelt on the need of taking safety as a culture.