COLUMNS



THIS ABOVE ALL

TELEPROMPT

GOOD MOTORING

LIFE'S LESSONS

LEXICON

NETWATCH

FOR CHILDREN



CROSSWORD

RHYME TIME
Earlier Feature


TELEVISTA


AUDIO SCAN
Soaring spirits, Zooming cars
M. S. Unnikrishnan recaps the sporting scene in the year gone by and details the defining moments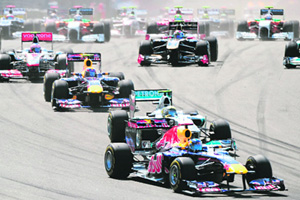 Mahendra Singh Dhoni's men tasted the biggest sporting success in 2011 when they lifted the cricket World Cup crown, though the year was, otherwise, mired in and marred by controversies. Dhoni led from the front, as it were, with Yuvraj Singh playing the sheet-anchor to add the ODI World Cup to his prized collection of trophies, which also included the inaugural Twenty20 World Cup, held in 2007.
The big-ticket F1 event in Noida was lavishly mounted
Shah Rukh Khan
the enigma
As SRK mouths dialogues from Don 2, even shakes a leg, for his fans, Nonika Singh tries to understand the man behind the superstar
When I was growing up I wondered why villains have to be loud strange men, caricatures with scars and moles and a rip-roaring laughter. People, who have so much power, ought to be in control of situations and themselves." With these words, the superstar Shah Rukh Khan explains his portrayal of the bad man in Don 2 — calm and collected. Of course, the matinee idol, who was in Chandigarh to promote his film Don 2, is in control onscreen as well as off it. Apparently, nothing seems to shake his cool.
The cost of flouting safety checks
Callous indifference to safety can claim lives, lead to major tragedies. This is the most dominant message that came across throughout the year 2011. As we step into 2012, we need to constantly remember this and take corrective action. Or else, we will forever be condemned to suffer the consequences.