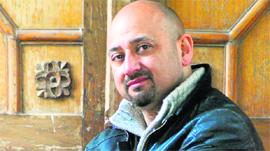 Between words
He grew up in a town with no poets, a home without books and yet knew it's in him to become a poet. By seventh standard, he had read all the books in his school library. His teacher who used to bring him books from home also took him to the local library one Saturday to introduce the librarian where John spent hours reading books.
Go for action
"Not every pitch is successful, you gain some, you lose some," says architect Arun Loomba, in a matter of fact manner. Sitting in his office in Panchkula, surrounded by books that bring the latest that is happening in architecture the world over, Arun is a man of few words.
A cut above the rest
The Indian canvas appears like a paradise for those who love colour, according to veteran Spanish designer Agatha Ruiz de la Prada who believes Indian fashion is growing very fast and experiencing a great moment.
Window View!
We all go gaga over shopping, especially women; after all they have a strong reason like retail therapy attached to the whole ceremony of spending lavishly and loading themselves with those carry bags!
Par Excellence
Extend & release
Most good players have a fully extended right arm (for right handed players) post impact and a supinated left wrist position. Supination is turning the palm of the left hand upwards and this happens through impact.
Heart Talk
Balancing act
I'm a working woman and married for three years now. I have a two-year-old daughter, and lately I have started feeling that it is a bit difficult to strike a balance between work and family.
Cheating is normal for men
A study has found men are always likely to cheat despite loving their partners and never wishing to leave them and suggests that society embrace more sexually open relationships.
TREND SETTER
Chic Choice
A stylish person stands out in the crowd. His or her look may not be governed by an inherent beauty or by donning brands, it may just be that person's sense of co-ordination in clothes or simply the attitude. Whatever it maybe, the result is that it warrants a second glance. Effervescent yet demure Ganga Chaudhary, a B Com student, shares her sense of style…
Master Chef
WINTER LAKSA SOUP
Soups are an all-time favourite. It might be called a light broth or a yakhni or a rasam, yet they all are hot liquids which are supposed to be healthy and easily digestible.
In a league of their own
Tweens have passion and aspirations of their own and their own favourites heroes. The sheer variety of cartoon and kids channels, kid's stationery, and kids stuff available in markets for these 'after-babyhood-and-before-adolescence' bears this testimony.
Star Track


Two left feet


The best, so far


The new D


No tags please


Alive and kicking


Ryan Seacrest to be axed from American Idol?


On-set romance is too distracting: Rachel McAdams


On a 'trip'


Shades of grey
Chatter Box


Shakti Anand & Sai Deodhar


All for the big bucks