Star Track
Two left feet
Pakistani actor Ali Zafar recently had a tough time getting his steps right for an item number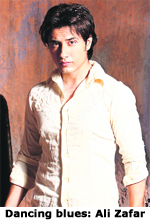 Pakistani actor Ali Zafar seems to be having a tough time perfecting his dance steps for a Bollywood item number. "Most painfully joyous process. Dance rehearsal for an item number! Fully Bollywood! Must sit in a tub full of ice before sleeping!" Ali wrote on his Twitter page.
The actor-singer is currently busy shooting for filmmaker David Dhawan's Chashme Buddoor remake. Apart from Ali, the film also stars Anupam Kher, Rishi Kapoor, Siddharth and Divyendu Sharma of Pyaar Ka Punchnama fame. The original 1981 film starred Farooque Sheikh, Rakesh Bedi and Ravi Baswani.
Ali made his Bollywood debut with Tere Bin Laden, which won him critical acclaim from all over. He later entertained audiences in Mere Brother Ki Dulhan. Ali's next will be London, Paris, New York, with Aditi Rao Hydari. Directed by Anu Menon, it releases on March 2. — IANS

The best, so far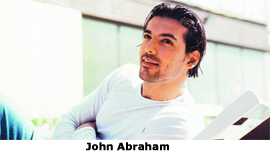 Bollywood actor John Abraham has had a tryst with a number of comedies in his eight-year-long career but he says that his upcoming film Housefull 2 is the craziest of them all. The 39-year-old model-turned-actor, who played a male stripper in his last comic venture Desi Boyz, says he is now happy to be a part of this Sajid Khan directed comedy as it was a difference experience for him.
"Frankly, I have shocked myself by adapting to the world that Sajid Khan has created in Housefull 2. It is one crazy film and nothing that I have been a part of ever before in the last decade gone by. "Sajid's sense of storytelling is radically different. I consider myself fortunate to have been a part of both worlds in the span of one year," John, who started his career with Jism, said. In Housefull 2, John shares screen space with actors Akshay Kumar, Riteish Deshmukh as well as veterans Rishi Kapoor and Mithun Chakraborty. "What else would an actor want? It has been fun shooting for the film and though it is still around five months away, I know the kind of euphoria it is all set to create on its release. It is one masala entertainer with romance, drama, comedy and of course a lot of action," he said. —PTI

The new D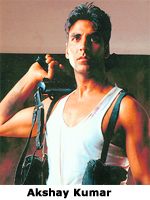 Akshay Kumar, who has taken over Once Upon A Time In Mumbaai from Emraan Hashmi and Ajay Devgn in the sequel, says he is completely relying on director Milan Luthria for the movie, which will see him in a role inspired by Dawood Ibrahim.
The actor is gearing up for another busy year this time with four releases like Housefull 2, Rowdy Rathore, Joker and OUATIM 2.
Once Upon A Time In Mumbaai was a hit thanks to the chemistry between Ajay Devgn and Emraan Hashmi and Akshay hopes to replicate the film's box office performance in the sequel too. "I have to live up to the hype, the brand name, the sequel and the fact that the story has to be even more interesting than the already brilliant story that has been told in 2010," said Akshay.
"I am extremely excited about this film and I know for a fact that Milan Luthria will do a fantastic job. A great director that he is, what can I say but the fact that my future is in his hands now," the actor added.
The 44-year-old will be seen in action mode again with Sanjay Leela Bhansali's production Rowdy Rathore, which will see him wearing a moustache after a long time. The film is directed by choreographer-turned-filmmaker Prabhu Deva.
"I am thrilled with the response Rowdy Rathore is getting. From the poster to the script, the songs, choreography and raw action, this is a bundle of rowdiness. Prabhu Deva is a name in his own right," said the actor about the Wanted director.
His other two outings Housefull 2 and Joker will see Akshay returning to the now familiar territory of comedy. First to arrive would be Housefull 2, directed by Sajid Khan. "I feel this is a huge film; now how big is something that I will never know.
However it is a full house of humour/action/
slapstick/bromance and so much more. There is nothing missing in this film and there are so many great actors in it that there is something for everyone." Meanwhile, Akshay has also almost finished Joker which is his second outing with Shirish Kunder after Jaan-e-mann. "In many ways he has grown and so have I since Jaan-e-mann. I have grown as an actor as well as a producer while Shirish has become more confident and capable of what he wants. He has studied a lot in many aspects of cinema, something that was really required especially for a film like Joker," says Akshay. — PTI

No tags please

His performance opposite Vidya Balan in Dirty Picture has made him another bankable star in Bollywood but actor Emraan Hashmi says the success of the film did not change him as a person. "I am as grounded as I was five years back. Tags like stars and superstars aren't something that I take too close to my heart. I know that as much as people would love to give such tags to someone, they are easily taken away as well. I would rather stay away from such temptations," Emraan said.
The 32-year-old actor, who started his career as an assistant director to uncles Mahesh Bhatt, Mukesh Bhatt and Vikram Bhatt, said he was intrigued by his role of an out of luck filmmaker and narrator in The Dirty Picture.
"It was always about great scripts. From the very first day of Dirty Picture, I knew what was the size and duration of the role. Still, despite a relatively shorter role, I found the script quite intriguing. "I guess sometimes what is seen less creates more impact and that was the case with The Dirty Picture as well. Presence of Abraham (the character played by him) was always felt and moreover since I also did the voiceover for the film, there was a certain persona that was created. It was just spot on," he added. Emraan will be seen in films like Jannat 2, Shanghai and Raaz 3 this year. —PTI

Alive and kicking
Bollywood actor Arjun Rampal is taking a step ahead as an entrepreneur to launch his debut fragrance this month. "Good Morning, sorry been tied up, reading scripts and gearing up for the launch of Alive a fragrance I have created. Time to smell good," the 39-year-old actor posted on Twitter today. With the launch of the perfume, the Rock On star will be following in the footsteps of Amitabh Bachchan, Shah Rukh Khan and Shilpa Shetty. The fragrance will be available worldwide in stores from next month. "Alive is my fragrance. There will be two different scents, a masculine and a unisex. The fragrance will be available world wide, but a month later post our launch," he added. — PTI

Ryan Seacrest to be axed from American Idol?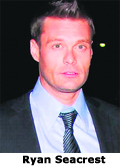 After having hosted the American Idol since the beginning of the talent show, Ryan Seacrest may be axed after his three-year contract comes to a close after the next series.
The parent company of Idol producer 19 Entertainment is no longer willing to pay the enormous USD 15 miliion per season for the 37-year-old presenter, the a publication said. Idol bosses have seen that the show has continued to prove successful after Cowell's exit and now hope that Seacrest's leaving won't hamper the show either.
"There's no way FremantleMedia (who also produce Idol) and CKx will continue to pay Ryan when he can be replaced for USD 2 million to USD 3 million," a source said. Having presented the show since its first series back in 2002, American Idol became a runaway success, achieving over 26 million viewers weekly. Seacrest may indeed be following fellow presenter Steve Jones who after fronting the first season of X Factor USA has reportedly been told to leave the show after negative reviews. American Idol will kick start its next season on January 19. — PTI

On-set romance is too distracting: Rachel McAdams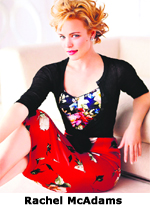 Hollywood actress Rachel McAdams, who is currently dating her Midnight in Paris co-star Michael Sheen, says on-set romance is too distracting.
The 33-year-old actress, who has also dated Ryan Gosling after working together on The Notebook, rejected the notion that movie sets spark romantic vibes, reported a website.
"A set may seem like a good place for romance, but I don't think it's very conducive; it's too distracting.
Every relationship I've had with a coworker has come after the fact that you end up actually spending a lot of time with those people promoting the movie," McAdams said.
When asked why her ex-boyfriends still have nice things to say about her even after their break-up, she said, "I'm paying them. But, no, that's lovely to hear."— PTI

On a 'trip'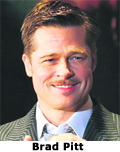 Brad Pitt was spotted with a cane at the Palm Springs International Film Festival and the actor said it was because he tripped while carrying his daughter.
The Moneyball star was walking with the help of the stick on the red carpet of the 23rd Palm Springs International Film Festival's Awards Gala, said a publication. "I was carrying my daughter and I tripped and fell. But everyone's fine," said Pitt, who was accompanied by his partner Angelina Jolie. Jolie, in a cafe latte coloured silk chiffon pleated Elie Saab halter gown, was doing interviews on her own and added, "Everyone's fine. I think all parents get injured. When Maddox was young, I fell and hurt my elbow. It's common occurrence."—PTI

Shades of grey
Hollywood superstar George Clooney says his biggest fear in life is hurting someone and he lies to avoid hurting people's feelings. The 50-year-old, who is currently dating former wrestler Stacy Keibler, said he can't stand the idea of making another person feel miserable, reported a website. When asked what his biggest fear in life is, Clooney said, "Hurting someone." The actor also said he has lied to people on occasions when he thought telling the truth could cause them harm. "When telling the truth causes harm, it is better to lie," Clooney said. — PTI