Fiza, neighbours hurt in clash on trivial issue
Mohali, January 11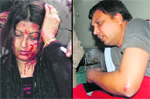 Fiza, a divorcée of former Haryana Deputy Chief Minister, Chander Mohan, was today injured in a bloody clash with family members of her neighbour over a petty issue of the latter's children playing cricket in a garden near her house.

Fiza after being injured in a clash with her neighbours in Sector 48, Mohali, on Wednesday; and (right) her injured neighbour Sanjay Aggarwal. Tribune photos: Vicky Gharu
College students apply the balm
Chandigarh, January 11
Coming in support of the boys from Kerala who were bashed up by their local counterparts yesterday, students from Post Graduate Government College, Sector 11 here, today stood with the visiting team throughout the day assuring them of a comfortable stay without any threat from any quarter.


Presenting perfect picture of promises not kept
Chandigarh, January 10
The UT Administration's tall claims of equipping the Inter-State Bus Terminus (ISBT) at Sector 43 with state-of-the-art facilities have fallen flat.



(1) Garbage and 'malba' lying near the bus counter at ISBT in Sector 43 of Chandigarh. (2)Unattended two-wheelers on the road near the parking at ISBT. (3) Garbage lying in the basment of ISBT. Tribune photos: Parvesh Chauhan
240 bookings on last day
Chandigarh, January 11
Local Registration and Licensing Department had a field day today when at least 240 vanity numbers of new vehicle registration number series CH01-AL were booked on the final day of booking of numbers.
No Kaushalya water for Sukhna
Chandigarh, January 11
In a yet another jolt to the UT Administration's efforts to preserve the city's landmark Sukhna Lake, the Haryana government has turned down its request to provide water from the Kaushalya Dam in Pinjore to the Sukhna Lake.
PGI eyes bigger pie in Medicity
Mohali, January 11
In what may come as a major blow to the hopes of private hospitals and companies to open their establishments in GMADA's upcoming Medicity, there are reports that the PGI, Chandigarh, is planning to get allotted most of the project area to set up super specialised centres for patients.
32 structures pulled down
Panchkula, January 11
A team of the enforcement wing of the District Town Planning Department demolished 32 buildings, including a godown and three factories, at Rajipur and Surajpur, near here, today. These buildings were built in violation of the Periphery Act. Besides shamlat land of the villages was encroached upon by some of the owners, said Hitesh Sharma, District Town Planner.
Bus stop shifting irks Panchkula residents
Panchkula, January 11
The residents of Sector 19 blocked the traffic in Industrial Area Phase I in protest against the shifting of the local bus stop today. The new location of the bus queue shelter will make them tread at least 300 metres more, they claimed.
Code violation: Notice to BSP candidate
Mohali, January 11
After unsuccessfully contesting the recent Chandigarh MC election as a BSP candidate, Manav Mehra today filed his nomination papers from the Mohali constituency on the party ticket. The candidate, who was accompanied by a convoy of vehicles and slogan-raising supporters on the way to the office of the returning officer (RO), Mohali, to file the nomination papers, received a notice from the RO. "Against the norms of the Election Commission allowing only five persons along with the candidate within 100 metres of the RO's office, the BSP candidate came in a large convoy of vehicles. He has been asked to explain his position," said the RO, Amit Talwar.
Shot in arm for Cong candidate
Fatehgarh Sahib, Jan 11
Though two Congress rebels have filed their nominations from the Fatehgarh Sahib Assembly constituency against the official candidate of the party, Kuljeet Singh Nagra, who is considered to be a member of Rahul Brigade, the latter got a shot in the arm as he succeeded in getting the support of senior Congress leaders, grass-roots-level workers and councillors.
20 file nomination papers
Fatehgarh Sahib, Jan 11
Prominent candidates of all the political parties today filed their nomination papers in all the three Assembly constituencies that fall in the district. Yashveer Mahajan, Deputy Commissioner-cum-district election officer, said eight candidates filed their nominations papers from the Fatehgarh Sahib Assembly constituency with SDM-cum-returning officer. They are Prof Prem Singh Chandumajra of the SAD, his wife Balwinder Kaur (a covering candidate), Didar Singh Bhatti of the PPP, Kuljeet Singh Nagra of the Congress and his wife Mandeep Kaur (covering candidate), Kuldeep Singh of the SAD (A), Tirlochan Singh of the BSP and Harsimranjit Singh (covering candidate).
Randhawa worth Rs 8.2 cr
Dera Bassi, January 11
When it comes to assets, movable and immovable, the Congress candidate from Dera Bassi, Jasjit Singh Randhawa, who filed his nomination papers today, leads the pack of prominent candidates in the fray from the Dera Bassi seat.
Snag hits work at RLA office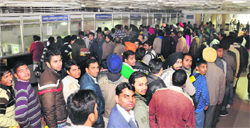 Chandigarh, January 11
A snag in the main server of the local Registration and Licensing Authority (RLA) resulted in harassment of those who visited the office at Sector 17 to get their work done today.

Applicants face a tough time as the server crashed at the RLA office in Sector 17, Chandigarh, on Wednesday. Tribune photo: Manoj Mahajan
CBI defends choice of special public prosecutor
Chandigarh, January 11
The Central Bureau of Investigation (CBI) today defended the appointment of advocate Anupam Gupta as special public prosecutor in the cash-in-bag case.
Over 100 victims enquire, 3 more vehicles identified
Chandigarh, January 11
A day after the biggest haul of stolen vehicles, worth Rs 4 crore, from an inter-state gang, the UT police remained flooded with calls from complainants across various states, asking if their stolen vehicle was among those recovered.
It gets worse for arthritics in winter
Chandigarh, January 11
No season is a comfortable one for a person suffering from arthritis. But come winter, joint pains tend to increase, compounding problems for arthritics.
GMADA pockets Rs 83.26 cr from booth auction
Mohali, January 11
The Greater Mohali Area Development Authority (GMADA) has earned a revenue of Rs 83.26 crore at an auction of convenience built-up booths being offered by it in different parts of the town. The bids received were 30 per cent higher than the reserve price.


Panel to inspect schools for RTE compliance
Panchkula, January 11
A three-member School Inspection Committee will soon inspect all the schools in the district to verify compliance with the Right to Education Act. This was revealed by the district education authorities who today submitted to the local court a list of schools which have reported compliance with the RTE Act norms by filing self-declaration forms.
80 from city bell CAT, girls mark entry
Chandigarh, January 11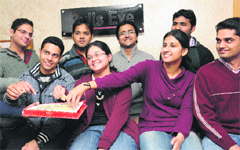 CAT-2011, has left the city in joy, with over 80 students securing above 97 percentile and more girls making it to the list compared to past 13 years.






Some toppers rejoice in Chandigarh on Wednesday evening. tribune photo: manoj Mahajan
Engineers steal the show
Chandigarh, January 11
In what has now become an indispensable part of CAT, 95 per cent of those who have scored above 97 per cent are engineers. IIMs had changed the pattern of the qualifying examination this year to aid more students from commerce and humanities backgrounds to come to the fore, but apparently, ended up helping engineers.
Ropar IITian scores 100 percentile in CAT
Chandigarh, January 11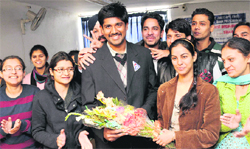 Ram Prasad Pemmasania checked the website at least a dozen times to believe what he saw on screen. He had scored 100 percentile in the famed Common Admission Test (CAT) for admission to the prestigious Indian Institutes of Management (IIMs). He is among only nine examinees in the entire country to have cracked this examination with full marks.
Ram Prasad Pemmasania celebrates his 100 percentile with co-students at his coaching centre in Chandigarh on Wednesday. Tribune photo: Manoj Mahajan
Changes bring hope
Chandigarh, January 11
CAT results were declared in the morning and the IIMs at Kozikhode and Ahmedabad made their telephone calls by the evening itself. According to experts, things were surely looking up.
City a training ground
Chandigarh, January 11
In an encore of past year, Ropar can claim to be the alma mater of a topper while Chandigarh has found solace in being just a training ground.
Try these out
The CAT-2011 result is finally out. In the third online avatar, results have made or broken many dreams. For those who have secured above 97 per cent, the picture is more or less clear. What about those who have secured between 80 and 90 per cent? The real test starts now, deciding whether to retry or go to second-tier B-schools. If you feel that your first attempt took you by surprise, leaving scope for improvement, go in for next year. If it is your second or third attempt, try your luck with institutes which may not be IIMs, but have gained repute recently.